Check out this amazing Nightmare Hockey Lounge at 820 Hillcrest Rd. Pickering Ontario.
About this event
A great way to enjoy w spooky Halloween event while giving back to an amazing cause! A special thank you to all those who have made this event come together! 
Tickets are available online & in person. Contact Christine at 289 923 1561 for paper tickets. 
Draw will be done on Facebook and winners will be contacted 24 hours following the November 3rd draw date! 
A chance to win:
Toronto Maple Leafs Tickets
Toronto Raptors Tickets (c/o Bollocks Pub Pickering) 
Toronto Marlies suite for 18 (c/o Ajax Spiderman)
Shoeless Joe swag kit including $75 gift card (c/o Shoeless Joe Pickering)
$50 M&M's gift card
$50 Dining card
Cineplex passes
And more!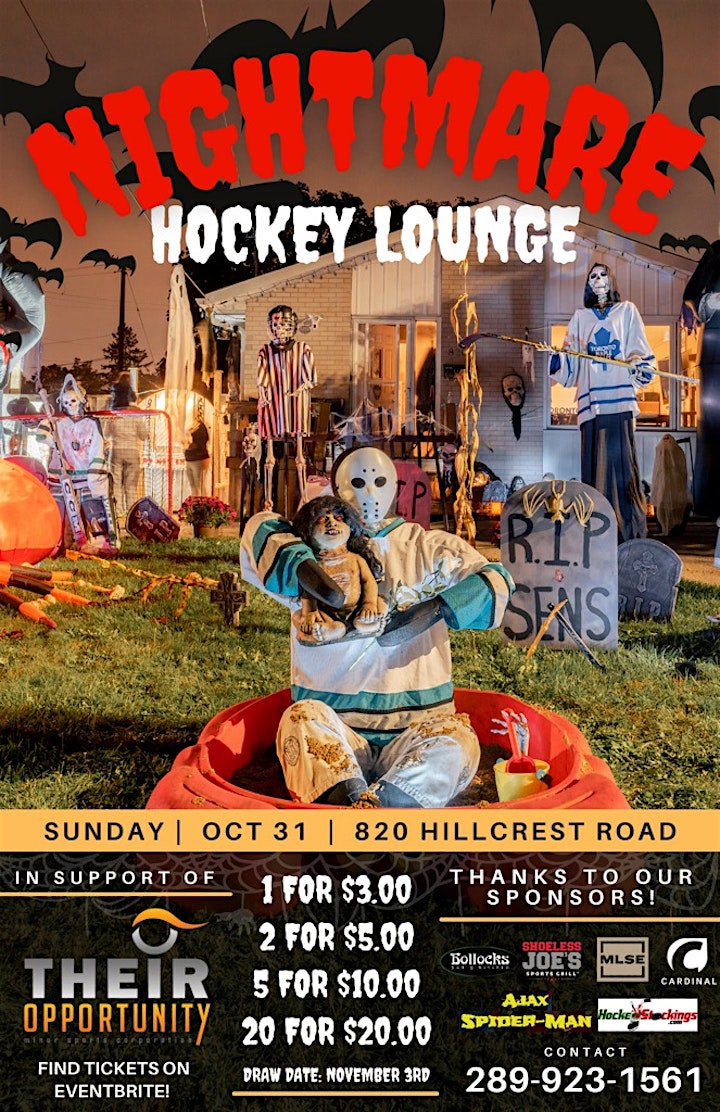 None
Organizer of Nightmare Lounge Halloween Fundraiser
Their Opportunity exists to support under serviced families with the means to enroll their children into local sports and recreation programs. We set out to eliminate the financial barriers so children can develop essential life skills such as confidence and sportsmanship, as well as develop a healthy lifestyle.  Their Opportunity hosts a unique Giveback Program where children receiving funding are required to "pay it forward" within their community. 

Since its inception, Their Opportunity has helped provide opportunities for over 12,000 children and affected thousands more through its Giveback Program translating to 162,000 recreation hours and 36,000 hours of community service or engagement