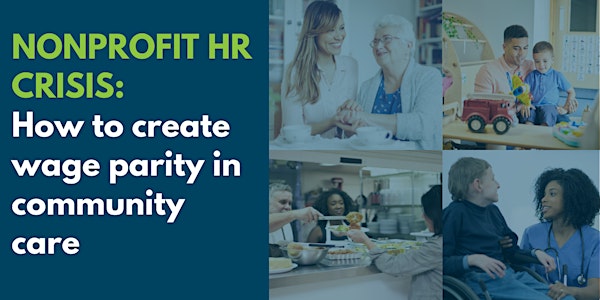 Nonprofit HR Crisis: Creating wage parity in community care
Join us to discuss how the sector can advocate together to make wage parity a reality in community care.
About this event
An HR crisis is happening across the nonprofit sector and together we can advocate for solutions. Workers are leaving the sector in droves and staff vacancies have pushed operations to a breaking point.
A key component of the nonprofit labour force crisis is wage disparity between community care jobs in nonprofits and those in the public and private sectors. This is driving the HR crisis and hurting the communities we serve. This means longer wait times, gaps in services, and intense pressure on our organizations to take on more with less.
During this webinar, we will discuss eight solutions to this issue and how the sector can advocate together to implement them.
Register to get access to our new advocacy tool, and hear from the sector on how they are mobilizing for wage parity. All registered participants will receive a recording, slide deck, and a curated list of resources within one week of the event. If you have any questions, please email info@theonn.ca.
Speakers:
Susan Bender, Manager of the Toronto Drop-in Network
Pamela Uppal, Director of Policy at Ontario Nonprofit Network