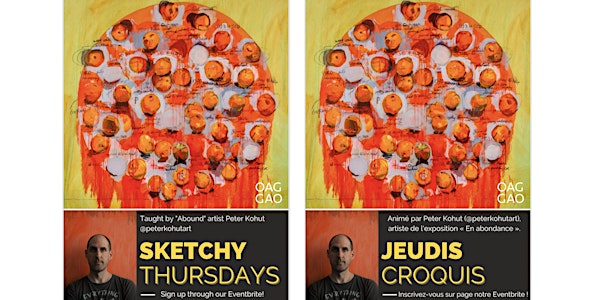 OAG's Sketchy Thursdays / Jeudis croquis, présentés par la GAO
Sketchy Thursdays with artist Peter Kohut / Jeudis croquis avec l'artiste Peter Kohut
About this event
Thursday, January 27, 2022 - 6:30pm to 8:00pm (Eastern Standard Time) on Zoom
Join us online to learn observational sketching techniques from artist Peter Kohut. Peter Kohut is an Ottawa-based artist whose artistic practice is an exploration of repetition, process and time as a way of linking the medium of painting to anchors in shared events.
On January 27, we will learn about Kohut's work on display in Abound and sketch a still life.
Zoom link: https://us06web.zoom.us/j/89296508769
http://www.petekohut.ca/
____________________________________________________________________________________________________
Jeudi 27 janvier 2022 - de 18 h 30 à 20 h (heure normale de l'Est) sur le plateforme Zoom
Soyez des nôtres lors de cet atelier de techniques de dessin d'observation en compagnie de l'artiste Peter Kohut. Peter Kohut est un artiste d'Ottawa dont la pratique artistique explore des thèmes de répétition, de processus et de temps pour créer des liens entre le médium de la peinture et des points d'ancrage pour des événements communs.
Le 27 janvier, nous découvrons le travail de Kohut dans l'exposition En abondance et nous esquisserons une nature morte.
Lien Zoom : https://us06web.zoom.us/j/89296508769
http://www.petekohut.ca/