Location
George Genereux Urban Regional Park
Range Road 3063
Saskatoon, SK S0K 1V0
Canada
The Genereux Story The Social Impacts of Dr. George Genereux
About this event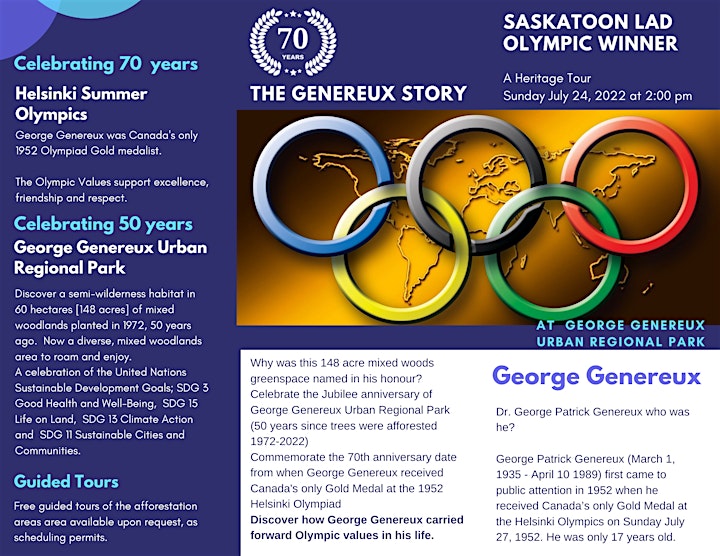 Dr. George Patrick Genereux who was he?
An Eco-Heritage Tour
George Patrick Genereux (March 1, 1935 - April 10 1989) first came to public attention in 1952 when he received Canada's only Gold Medal at the Helsinki Olympics on Sunday July 27, 1952. He was only 17 years old. Why was this 148 acre mixed woods greenspace named in his honour?
Celebrate the Jubilee anniversary of George Genereux Urban Regional Park (50 years since trees were afforested 1972-2022)
Commemorate the 70th anniversary date from when George Genereux received Canada's only Gold Medal at the 1952 Helsinki Olympiad
Discover how George Genereux carried forward Olympic values in his life.
At George Genereux Park in Saskatoon.
Directions take the Pike Lake Highway or Saskatchewan Highway 7 towards Pike Lake from Saskatoon..
Pass the 11th Street Compost and West Swale Wetlands
Take the first gravel road west (right) after the wetlands and before the Canadian National Railways Overpass.
Stay on the Saskatchewan Highway 7 service road until you have arrived.
Park in the shadow of the CNR overpass. You have arrived.
NE 21-36-6 W3 – George Genereux Afforestation Area -133 Range Road 3063 – GPS 52.1089473,-106.7925807
http://friendsareas.ca/
friendsafforestation@gmail.com
https://stbarbebaker.wordpress.com/