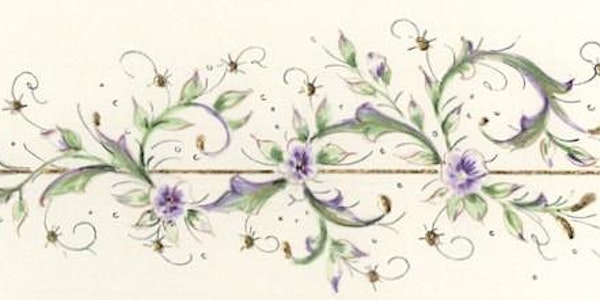 Pencil Lines for Glittering Vines with Heather Held - May 7 & 14, 2022
In 2 classes, Heather deconstructs the process of designing & illuminating Victorian vines. Saturday, May 7 & 14 from 9:30 am - 12 pm MDT
About this event
The process of designing in pencil is a core skill for calligraphers to pursue. In this 2 part class, we will deconstruct the process of designing and colouring these ornate Victorian vines. Rather than copying designs, you will learn how to see the underlying structure and create original designs every time you approach the paper.
During our first class we will be working with pencil and paper. This simple skill of using pencil on paper is peaceful and enlightening. We will look at methods of study, research, and finding inspiration from a variety of sources for your designs. You will have enough time between the two classes to work on your pencil designs. Students will be encouraged to keep a small journal for sketches & recording inspiration. Our vines will come to life through pointed pen drawing, watercolour, and gold leaf during the second class. Both sessions will be recorded and registrants will have access to the links until June 30, 2022.
These wonderful vines are so ornate and luxurious when they are completed and can augment your calligraphic work. You will be amazed at what you can create!!
------------------------------------------------------------------------------
Supplies for Class 1:
Graph paper, Mechanical Pencil with any size lead, Eraser, Small Cork Backed Metal Ruler
Optional: Small Gridded Journal suggested such as A5 Squared Leuchturrn1917
Supplies for Class 2:
Tracing Paper or Light Pad (we may not use these in class but can be handy for complex work)
140lb Hot Press Watercolour Paper cut to 5"x7" size ( an extra piece of watercolour paper is helpful for testing techniques)
Waterproof ink such as McCaffery Brown, Ziller Buffalo Brown, or a Sepia Copic Multiliner size 0.3 may be substituted if waterproof ink is unavailable)
Straight Pen holder with a medium flexible nib such as Hunt 22 or Zebra G
Optional Gold Supplies: 23K Gold Transfer leaf, Miniatum Ink Gilding Size with Size O Pointed Round Synthetic Brush, or Size 0 Taper Point Clay Shaper (Students may choose to use gold watercolour or gouache as a substitute for gold leaf)
Watercolour: Any colours you want. Pink, Green and Blue are always safe options for this class. John Neal sells a dot card of Heather's favourite Daniel Smith watercolours which are more than enough for this class.
Small Pointed Round Watercolour Brushes: Heather uses sizes 0, 1 and 2
Water dish and small white china plate for palette
Any optional embellishment supplies you want to add to your work. Heather will be using a green or blue chalk pastel, Sakura Gelly Roll Pen Clear Stardust, Swarovski Crystals. If you are using 23K gold leaf, a small piece of silk or velvet can be used to burnish the gold.