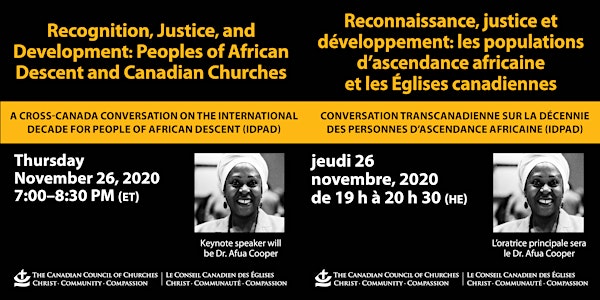 Peoples of African Descent & Canadian Churches: A Cross-Canada Conversation
Refund policy
Contact the organizer to request a refund.
Eventbrite's fee is nonrefundable.
A Cross-Canada Conversation on the International Decade for People of African Descent (IDPAD)
About this event
[Veuillez faire défiler vers le bas pour le français]
Christians across Canada are invited to this unique, livestream dialogue to bear witness to the experience of people of African descent in a Canadian Christian context. The evening will feature a keynote presentation by the esteemed Dr. Afua Cooper on the realities of current systemic anti-Black racism in the Canadian context and challenges to the Canadian church as well as a multifaceted panel discussion from diverse Christian voices across Canada, small group discussion in breakout sessions, and a time of prayer. The objective of this Cross-Canada Conversation is to raise awareness of the International Decade for People of African Descent and encourage action on the part of Christian communities and individuals in Canada to work to end anti-Black racism.
This event will be fully accessible and bilingual in both English and French.
WHEN: Thursday, November 26, 7:00-8:30 PM (ET)
COST: This Cross-Canada Conversation is free for all who would like to attend, but a registration fee of CD$20 per participant is requested to offset the cost of the event.
***
Événement: Reconnaissance, justice et développement: les populations d'ascendance africaine et les Églises canadiennes : Conversation transcanadienne sur la Décennie des personnes d'ascendance africaine (IDPAD) Les chrétiennes et les chrétiens de partout au Canada sont invités à ce dialogue en direct exceptionnel sur l'expérience des personnes d'origine africaine en contexte chrétien au Canada. La soirée comprendra un exposé de la distinguée Professeure Afua Cooper sur la réalité du racisme systémique anti-noir dans le contexte canadien actuel et sur les défis que doit relever l'Église canadienne, une table ronde à plusieurs volets réunissant diverses voix chrétiennes de tout le Canada ainsi que des discussions en atelier dans le cadre de séances en petits groupes et un temps de prière. Cette conversation pancanadienne a pour objectif de sensibiliser à la Décennie internationale des personnes d'ascendance africaine et d'encourager les personnes et les communautés chrétiennes au Canada à passer à l'action pour en finir avec le racisme anti-noir.
L'événement sera entièrement accessible et bilingue (anglais-français).
Quand: jeudi 26 novembre, de 19 h à 20 h 30 (HE)
Prix: Cette conversation transcanadienne est gratuite pour tous ceux et celles qui souhaitent y assister, mais on demande des frais d'inscription de 20 dollars canadiens par participant pour couvrir le coût de l'événement.