About this Event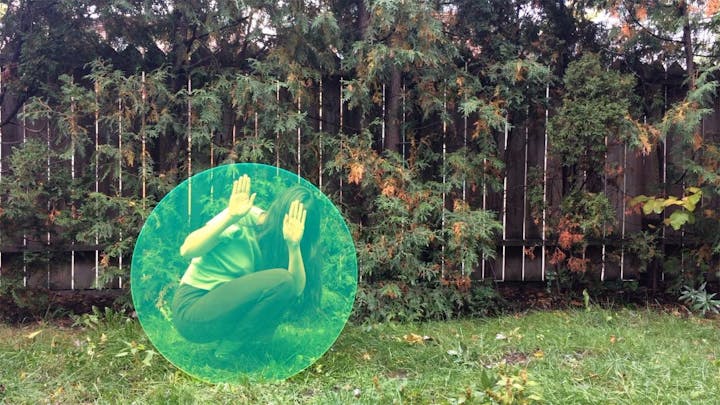 When does a space becomes a place? What is our relationship with private and public places in our everyday life? What are the ways to blur the boundary between the two? How are our daily routines shape our sense of place? How do we move from one place to the other in response to varying conditions of daylight, night time and activity within the spaces we occupy throughout the day?
The place becomes a definition for the space. Placement is the activity. With every placement/alteration which occurs new meaning is suggested. In turn, this meaning suggests further placement. Placement of ourselves within a space, placement of objects within the same space.
During the 24 hour artist residency –Dawn-to-Dawn– Lauren Runions explored "placement" inside the house, while Gelareh Saadatpajouh wandered the surrounding streets to find her place. They established a form of connection -a silent language- between inside and outside through a series of photo and video documentation, live streaming, text, drawings, tastes, sound recordings and olfactory discoveries.
For one-day only you are invited to step inside their curious minds as thinkers, observers and producers to learn about the multiple facets of their 24 hour exploration together, yet alone.
RSVP required. The exhibition starts at dawn (7:10AM) on January 25, 2019 and it runs until 11:16PM.
For more information, photos, accreditation, or interview requests contact:
Gelareh Saadatpajouh, Founder/Director/Curator 416 970 9622 or we@animator.space
ABOUT THE ARTIST
Lauren Runions is a contemporary dance artist, facilitator, choreographer and educator based in Toronto, ON. As a maker, she draws inspiration from the built world. Working with the intersection of body and site, her practice offers solitude and introspection while investigating intimacy, corners and environment. Currently, her personal practice has transformed into processes of action and reaction/place and play. With the use of task-based meditations she suggests softness into spaces studying the correspondence of the contained and the container, the circular nature of urban environments and the intimate becoming public.
Lauren has participated in process and creation-based residencies including Banff Centre: The Creative Gesture, Connection Dance Works: PERSPECTIVE, The Creative Practice Project, The Roundtable Residency, Dancemakers: Plug & Play, The Living Room Series and Anda Residency. She has also facilitated her own dance residency titled This is Our Place. This residency is an opportunity for dance artists to investigate their practice and present work within unique spaces. Most recently This is Our Place was fostered by The Bentway's Community Incubation Program where five artists were invited to examine the importance of public art culminating with a traversing site-responsive performance. Lauren hopes to pursue more opportunities to foster work of her own and of the community.
ABOUT SPACE ANIMATØR
SPACE ANIMATØR transforms raw spaces into places of breathing and living. Based in the west end of Toronto, we design and produce places of living, work and entertainment. Our aim is to deliver spaces that fulfill everyday life's needs and necessities, and truly reflect our clients' aspirations and ambitions. In response to the needs of each project, we craft our approach and process in collaboration with professionals from a local network of fabricators, artists, trades, engineers, developers and designers. We are inspired by the richness of everyday life, it's light passing and its mysteries. Storytelling is our way of design and pause is a deliberate moment in experiencing it. We love working closely with people and learn about their needs in the context of their neighbourhood and their city. Spaceanimator.com
Gelareh Saadatpajouh​ is the founder of SPACE ANIMATØR, a collaborative studio working in the realm of people, placemaking, installations and public art curation in Toronto. The studio's diverse practice is constantly challenging notions of temporality, spectacle, interventions and participation. In Fall 2015, Gelareh Saadatpajouh co founded ====\\DeRAIL Platform for Art + Architecture to push the definition of public art to produce unique and creative socially-engaged/place-specific programs along the linear landscape of the West Toronto Railpath. spaceanimator.com + derailart.com
General Information:
SPACE ANIMATØR
2 Abbott Avenue, Toronto, ON M6P 1H4
Phone: (416) 970-9622
Hours: 7:10am - 11:16pm on Friday January 25, 2019
spaceanimator.com