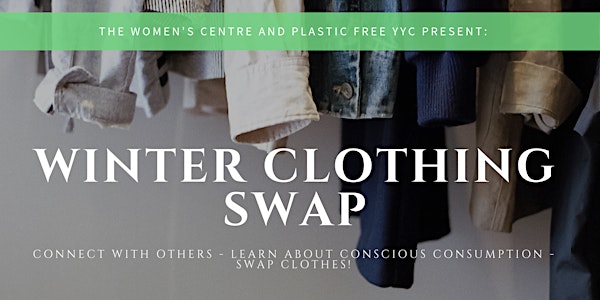 Plastic Free YYC at the Women's Centre: a workshop and clothing swap!
Description

Connect with other women, pick up new pieces for the new season and reduce your impact on the environment all at the same time!
Join us for a clothing swap on Wednesday November 21, 6 - 8 pm at the Women's Centre. This free event is open to anyone who identifies as a woman. If you are able to, please bring up to two garbage bags full of clothing to swap. If you are not able to bring clothing you are still welcome to participate!
Participants who are able, please bring CLEAN clothing (no underwear please) scarves, belts, gloves, shoes, bags, handbags, hats, ties, coats and other fashion accessories to swap. This is an all ages, all sizes clothing swap open to anyone who identifies as a woman, and is presented as a part of the Women's Centre Women and Environment Series.
This event will begin with a presentation on waste reduction by Plastic-Free YYC, and then the swapping will begin! Connect with other women in your community, learn about socially conscious consumption, and come home with new-to-you clothing!

Did you know?

In a single year, North Americans send 9.5 million tonnes of clothing to landfill, 95% of which could be reused or recycled. Clothing swaps are a fun way to participate in eco-friendly and socially conscious clothing consumption. All items not swapped will be donated.

Space is limited so make sure to RSVP early! We look forward to seeing you on November 21.
If you have questions please email
krystal@womenscentrecalgary.org