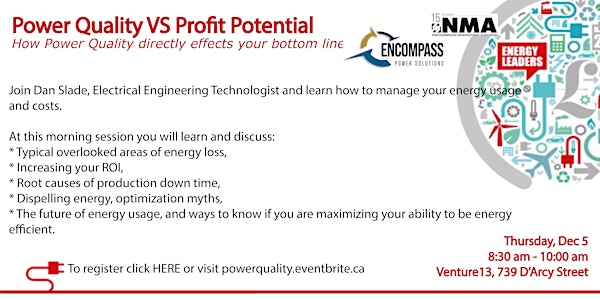 Power Quality VS Profit Potential Workshop
Join energy quality specialist Dan Slade and learn how to manage your energy usage and costs.
By The Northumberland Manufacturers' Association
Date and time
Thu, Dec 5, 2019 8:30 AM - 10:00 AM EST
Location
Venture13 739 D'Arcy Street Cobourg, ON K9A 0H6 Canada
About this event
At this morning session you will learn and discuss:
* Typical overlooked areas of energy loss,
* Increasing your ROI,
* Root causes of production down time,
* Dispelling energy, optimization myths,
* The future of energy usage, and ways to know if you are maximizing your ability to be energy efficient.
PRESENTER:
DAN SLADE - ENERGY QUALITY SPECIALIST
Dan Slade CET, CEM, CMVP is an Electronic Engineering Technologist is highly respected power and energy expert, well versed in sharing his unique level of expertise to a variety of industries across Canada and Internationally for over 30 years, offering sustainable energy solutions and resolving unique power quality challenges.
Dan also holds the position as Chief Technologist & CEO of Encompass Power, Vice President of Sales at Illuminaries and has held the position of Director of Service for Powerware Canada.
About the organizer
PHOTO & VIDEO DISCLAIMER
The Northumberland Manufacturers' Association (NMA) reserves the right to use any photograph/video taken at any event sponsored by the NMA without the expressed written permission of those included within the photograph/video. NMA may use the photograph/video in publications or other media material produced, used or contracted by NMA including but not limited to: brochures, invitations, books, newspapers, magazines, television, websites, etc. To ensure the privacy of individuals, images will not be identified using full names or personal identifying information without written approval from the photographed subject. A person attending a NMA event who does not wish to have their image recorded for distribution should make their wishes known to the photographer, and/or the event organizers, and/or contact NMA 739 D'Arcy St. Suite 110 Cobourg, ON K9A 0H6 in writing of his/her intentions and include a photograph. NMA will use the photo for identification purposes and will hold it in confidence. By participating in a NMA event or by failing to notify NMA, in writing, your desire to not have your photograph used by NMA, you are agreeing to release, defend, hold harmless and indemnify NMA from any and all claims involving the use of your picture or likeness. Any person or organization not affiliated with NMA may not use, copy, alter or modify NMA photographs, graphics, videography or other, similar reproductions or recordings without the advance written permission of an authorized designee from NMA. Thank you for your understanding and cooperation.