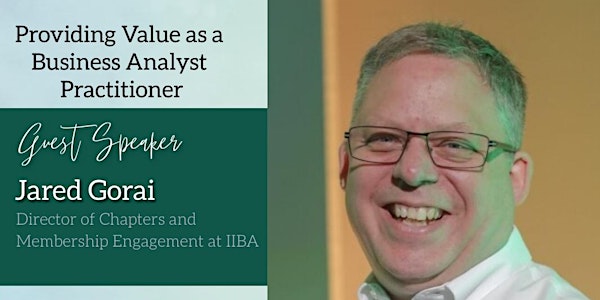 "Providing Value as a Business Analyst Practitioner" by Jared Gorai
"Providing Value as a Business Analyst Practitioner" by Jared Gorai
About this event
Topic: "Providing Value as a Business Analyst Practitioner" by Jared Gorai.
Topic Summary:
Business Analysis, like life is always changing but are we missing the point and are we overlooking fundamental skills in our pursuit of change? Jared will lead us on a journey to focus on the fundamentals of Business Analysis in defining needs and outcomes in the new world while also exploring how data analysis and customer experience are modifying our approach to business analysis.
Speaker's Bio:
Jared loves being a Business Analyst and has done so in title for over 15 years with over 25 years of business and leadership experience in both the retail and energy sectors. He is a strong advocate for IIBA, having served in various capacities with the Calgary IIBA Chapter as well as chairing the Volunteer Chapter Network. He brings his passion for business analysis and experience as a Chapter Leader to the role of Director of Chapters and Membership Engagement at IIBA.
He holds his Bachelor of Arts degree in French from the University of Calgary and the Certified Business Analysis Professional™ (CBAP®) designation. He will take any chance possible to evangelize business analysis and will talk your ear off about the role and the profession should you allow him to do so.
We are pleased to announce his support towards our "Summit Series" virtual event on Wednesday, September 15th, 2021, 6:00 pm.
It's an opportunity to hear and ask questions of thought leaders in the community.
Register with us to attend. It's free!