Description
PYRAMID MEDITATION & SOUND HEALING MONDAYS #4
Peace, Consciousness, Self-healing, the Power of Knowledge
+ + +
Is a weekly group meditation and sound healing series at Inner Arts Collective, Mondays in October and November!
* This Monday 6th Nov, we feature our group and Wendalyn Bartley (Sound Healer, Composer, Sound Artist 1) offering Sound Healing to the individuals and group, bringing healing and a deeper group meditation to follow
* Then the group meditates together in the Pyramidion Complex with guided and un-guided meditation, group intention if focussed by from and to group member individual Seekers
Join us for these weekly group pyramid meditations with guest sound healers to energize body, mind and spirit. Each week we unite with the powerful Universal energies using deep meditation, pyramid power, group consciousness, and sound, to promote healing and enlightenment and transformation for you the Seeker, and Gaia the Earth.
* The first 10 Seekers who arrive will receive a free POSTER of the event (shown, 11 x 17 in. color, signed by the Artist, Cf 2017)! ...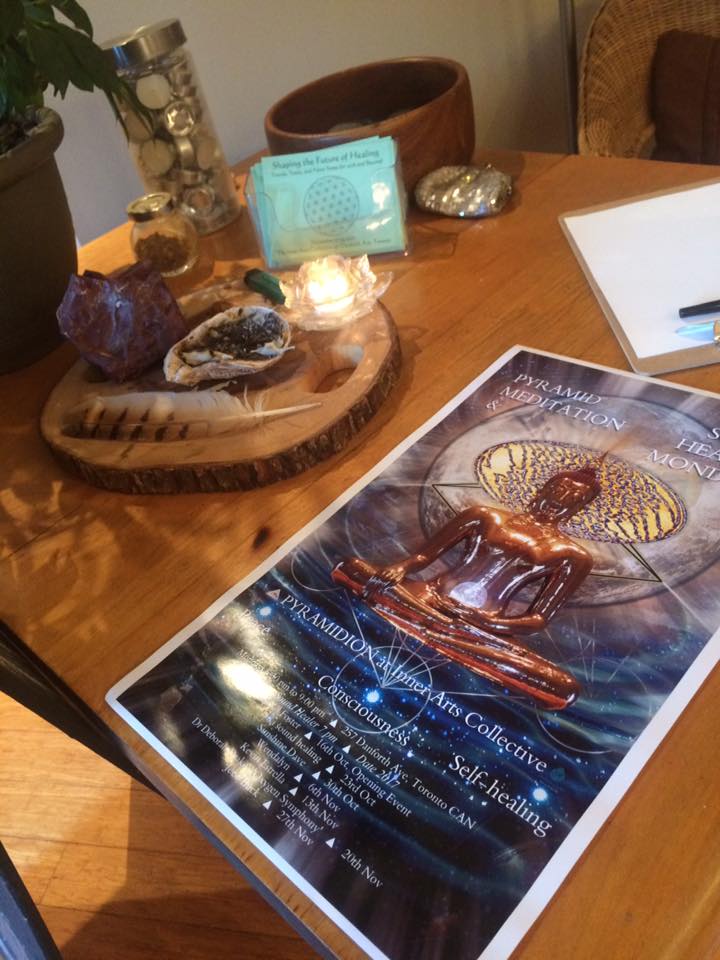 Image 2. Greeting Table at IAC, Med #2 (Photo by Melanie Ollenburg)
..
A Note from the Organizer:
Dear Seekers of Peace, Consciousness, Self-Healing, and the Power of Knowledge for All:
Much gratitude everyone for our current third Pyramid Meditation & Sound Healing Mondays event featuring Sunshine Dave, myself on procesing, synthesis & guitar.
Our complete Sound healing performance #3 is available at URL: Sunshine Dave + Cf Perf 30Oct2017-IACv3f.mp3, https://drive.google.com/file/d/0BwsA6rLRGnjKM2RaQUhmNGNzSzg/view?usp=sharing 15 min, Stereo, click to listen, click play / download.
Some beautiful voices singing from the throat chakra section and on...
We had 12 brilliant lights, spirits, practioners, light workers, and professionals, countless guides and higher beings, event volunteers, 3 awesome sound healers, who have donated their time to get this series going..
In light of these attendance numbers, and the need for a sustainable series, we are announceing a new ticket pricing structure for the remaining 4 events in this incredible series.
* Seeker Initiate - Outside energy bubble: $20
* Seeker Seer - Inside energy bubble: $30
This will allow the series to continue, and eventually have all involved to share in the profits from these endeavours, Calling for your support in attendance and participation. There are 40 seats capacity to this event, and our last one grew by 2 to 12 attendees with extreme effectiveness in the results of their group intention in the Pyramidions.
In order for the series to be sustainable for the good of all, this higher ticket price vauluation will allow everyone involved the blessing of continuity of a special series of a highly effective method of treatment and transformation through group coherence using sound, meditation, & intention.
So we are asking the Seekers, the Sound Healing community and thier supporters in this series to please step forward, and come to the events. Help to build our sound healing shared interest, and pracice, and community, demonstrating the effectiveness of Pyramid Meditation and Sound healing together in the abundance of loving and working with each other is this open forum, Mondays at IAC.
Addendum
.. We are also calling on people who are suffering from any common ailment, issue, or condition, false matrix programming, to find relief and the ability to send that to others as a group. Called the 'boomerang effect' by Lynn McTaggart (Power of 8, 2017), where healing or transformational intentions when send by an individual in group coherence, will recieve back what was sent into the oneness of the universe.
If you need Pyramid Energy Treatments, and Sound Healing relief from any of the top common ailments of people in todays society and humanity, we have gifted Sound Healing practitioners here at our Mondays event, delivering sound healing to the group and individuals.
In a highly positive and energetically powerful environment of bio cosmic energy of the group of legacy sound healers, and energy healing practictioners, all amplified by the Pyramidion complex and cohereing as a group, is an experience not to be missed.
- Campbell Foster, Energy Guide, Wed 1 Nov 2017
...
SOUND HEALER SPOTLIGHT - Wendalyn Bartley
Wendalyn Bartley's soundhealing practice is rooted in the energy medicine transmitted through the human voice. Because there is a direct link between our voice and our soul, powerful and intuitive soundscapes and frequencies can be created using the voice. These sounds work at the cellular level to create shifts and releases on many levels such as our unconscious limiting belief systems, energetic blocks held within our body, and unexpressed emotions. Sound vibration can also deepen our connection to our true divine nature and act as a potent connector with the intelligence of the natural world.
For over 30 years Wendalyn has pursued an artistic practice as a composer and sound artist dedicated to an awakening of the voice of the feminine, the earth, and a reunited humanity. She has also been certified in the Soul Voice® method of soundhealing pioneered by Karina Schelde.
Wendalyn will be sound healing on 6th November, Monday at 7 pm, opening the Pyramid group Meditation.
...
SOUND HEALERS CONFIRMED
Sound Healer 7 pm * Date 2017
Campbell Foster * 16th Oct, Opening Event ?
Diki sound healing * 23rd Oct
Sunshine Dave * 30th Oct
Wendalyn * 6th Nov
Kevin Estrella * 13th Nov
Dr Deborah Drake's 'Oxygen Symphony' * 20th Nov
Jesse Buck * 27th Nov
...
RSVP, Tickets;
$20 general seeker, $30 inside the energy footprint of the Pyramidion complex, cash at door or Eventbrite.
Eventbrite ticket avail online at URL: https://www.eventbrite.ca/e/pyramid-meditation-sound-healing-mondays-tickets-38728337500
Inner Arts Collective, 257 Danforth Avenue Toronto, ON, Canada, http://www.innerartscollective.com - A co-Coworking hub for wellness and self-development practitioners to be of service to their clients, innovate and network
PYRAMIDION Life Energy Pyramids – http://campbellfoster.ca/pyramidion – 'The purposes of the pyramids were two: firstly, to have a properly-oriented place of Initiation for those who wished to become purified or initiated channels for the Law of One. Two, We wished then to carefully guide the Initiates in developing a healing of the people whom they sought to aid, and of the planet itself.' – RA, The Law of One
FAQs
What are my transportation/parking options for getting to and from the event?
Parking north and south of Danforth ave residential
..
What can I bring into the event?
Bring your intention of healing and change for others and yourself, and any such crystals or tools.
..
How can I contact the organizer with any questions?
Contact Campbell Foster via email < cam fos @ gmail . com >
..
What's the refund policy?
Available until 1 day before the event,
..
PYRAMID MEDITATION #4 WITH WENDALYN BARTLEY SOUND HEALER
Hello Seekers; past, present, and future participants..
Tonight is our Pyramid Meditation & Sound Healing Mondays event, 6:30 pm to 9:00 pm, Inner Arts Collective, 257 Danforth Ave!
OVERVIEW OF OUR EVENT
We gather at 6:30, and get seated, in our desired area in the Pyramidion Complex.
Bio Energy levels by Location in the Pyramidion Complex (10/10 to 0/10 energy levels):
Seated Inside Energy footprint: Strongest biocosmic life force energy flow 10/10, into and through the pyramidions


Seated outside and near the Energy footprint of the pyramid complex: 9/10 energy flow

Seater farther away from the Energy footprint: 8/10 and decreasing 3/10 with distance increasing from the Pyramid Complex to 0/10
The Golden Centre: the geometric center of the Pyramidion shape is the 10/10 strongest energy, also called the Zero Point of the Quantum field, Prana, Chi, life force, connecting within to this.
In studies by Lynn McTaggart (International Peace Intention Experiements) show that the repeated use of the same location (IAC, & local radiant area), will improve the group intention results over time.
PREPARING FOR THE PYRAMID MEDITATION & SOUND HEALING
Food that is consciousness improving, and stimulating for you is an ideal fuel for the evening meditation.
Any extremely stimulating substances (like drugs and alcohol), which do have their own place in consciousness mining and opening of the doors of perception, are to be avoided for the experience
If this is your first time meditating in a Pyramid with a group, then your first experience would be call the "Initiation" according to the Law of One, RA & social complex. Wherein the Seeker, in their direct experience of the biocosmic energies of the self, spirit, and creation, in high relief.
This direct and profound experience in meditation, increased in effect by the Pyramids and group energies, puts the Seeker on an accelerated path of spiritual development, having directly identified the whole Source of the their Spirit fragment within: the oneness of Creation.
REFERENCE
///
Come and help heal your spirit mind and body for you, others, and Gaia the earth! :-)
^ ^ ^