About this Event
We are offering two weeks of guided carpentry work as we build the two front faces and the roof of this epic Earthship. All 1,171 used tires have been pounded so 80% of the hard work is done. Join our crew of experienced Earthshippers to get this Ship waterproof and starting to perform as it should.
The 'ticket' price here is to reserve you place for this amazing community event. The full payment can be made when you arrive on site to join us in July. We will send more details via email.
During the two weeks you will learn the "nuts and bolts" of Earthship design and construction with experts from the industry. With the focus being on Carpentry you will be guided through the basics of tool use, safety and building. This is a unique opportunity where you will learn life long skills and put you hand to an amazing building. More details of our schedule will be emailed after registration.
We will also have workstations building bottle walls, Installing the electrical and plumbing systems, as well as learning how to make a perfect COB mix and coat a natural clay wall.
Crew:
We will update the crew Bios as we get closer to the event.
Owners: Tony and Susan Doig
Tony and Susan are passionate about sustainability. Together they have four children, and Bentley a standard poodle. With their children grown and no longer living at home they are looking forward to the next phase of our lives… theDoighouse Earthship build and this summer's workshops!
xxxxxxxxxxxxxxxxxxxxxxxxxxxxxxxxxxxxxxxxxxxxxxxxxxxxxxxxxxxxxxxxxxxxxxxxxxxxxxxxxx
Builder:
Ben Garratt, has been designing, building and running Tiny house/Earthship/Natural building workshops for many years. Bens has over 20 years of construction experience. His calm and stress free nature lets you learn from you head, heart and hands. www.bengarratt.com/about/
Carpenter:
xxxxxxxxxxxxxxxxxxxxxxxxxx
Natural builder/Carpenter:
xxxxxxxxxxxxxxxxxxxxxxxxxxxx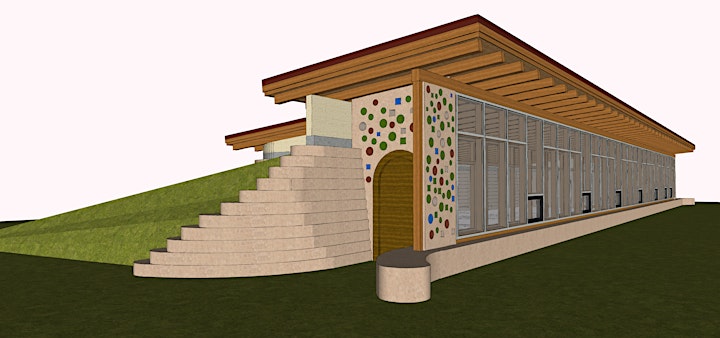 Imagine the fun you'll have making glass bottle bricks to be placed in the exterior vestibule (a.k.a. the greenhouse) and interior walls. I sometimes call them 'a poor man's stained glass window', not because they are 'poor' but rather because they can be built by anyone wishing to learn.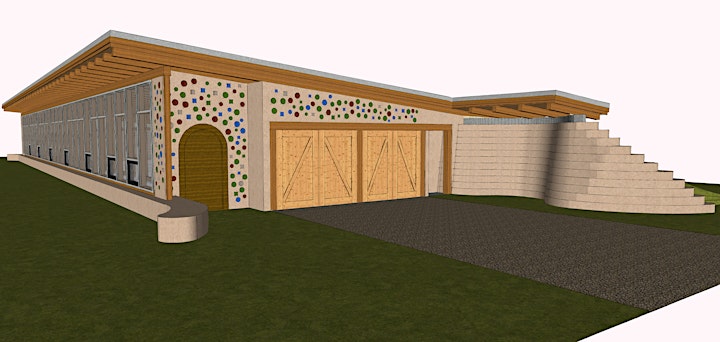 In a standard 2 bedroom global, the east side may include a two car garage. For us, these two garage doors will open and welcome learners into the Doighouse Learning Centre. The purpose of the Learning Centre is to provide inclusive, multi-generational environmental education.
'about the environment' (e.g. Biology)
'for the environment' (e.g. Activism)
'through the environment' (e.g. Empowerment; team work, team building, confidence building and leadership)
Our goal is to grow and support a community for natural building through hands-on learning and the development of a natural building network.
We've had amazing help along the way so far. Thank you in advance for considering joining us as we build our dream.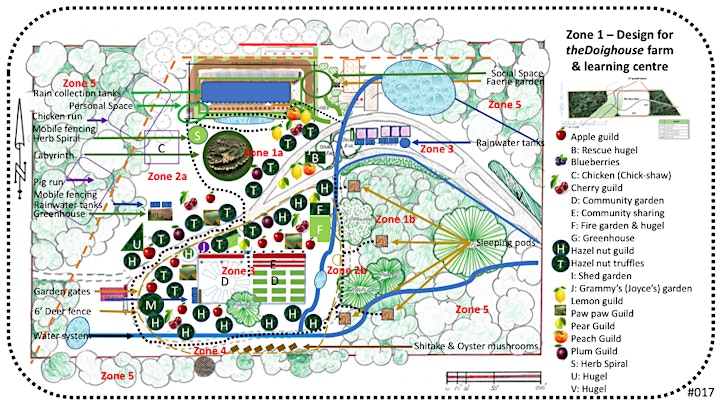 Included on the grounds of theDoighouse Earthship property is a permaculture food forest. There are fruit and nut trees, and blueberry, saskatoon, honey berry, and raspberry bushes. Lots of strawberry plants too. Yummy!
Planting began in 2018 making this the third growing year since building the garden boxes and planting trees. We are continually adding to the gardens. We use the produce grown to supplement the food served to our guests. The picture above is the original design; below is an updated version.
You are welcome to find a quiet spot in the garden to rest; pick some salad fixin's for dinner or pull weeds. No requirement to do so, just an open invitation for you to enjoy this space when you're not learning and practicing Earthship building.
ACCOMODATION:
You will be staying in Lighthouse Country, a small rural area on Vancouver Island about 6 kilometres from Bowser town center. There you will find a grocery store, banking, real estate office, massage, pharmacy, Salish Sea Art Market, coffee shop and a variety of retailers.
We are off grid and very rustic. If you love the outdoors, you will love this. You will have a place to pitch your tent, or park your vehicle or RV (no hookups) on the edge of the forest.
We have an outdoor solar shower – very cute – but if you want real running hot water, a quick bike ride to the local campground and for a buck or two you can have a hot shower! Our outhouse is not smelly and we use real toilet paper – not old magazines and phone books.
MEALS, snacks & water...
Meals are prepared and served in an outdoor kitchen, sometimes referred to as the Bear Paw Cafe after our early morning summer guests (2 black bears).
The menu rotates often... we prefer vegetarian, but can complement with seafood, meat and dairy depending on the guests needs, desires and food sensitivities.
Our guests are welcome to participate in the preparation and serving of dinner; we have found in the past it increases the cultural sharing, and makes for a more rich experience all round.
WATER: Fresh drinking water is available at no charge to fill your own reusable container. All winter we have been collecting rain water for use in the outdoor kitchen. The water is plumbed to the kitchen and filtered using a three stage 'Earthship' style water management (WOM). Please bring your personal reusable drink container.
BREAKFAST:
LUNCH: We prepare a healthy and nutritious lunch - typically a soup, sandwich, salad, dessert, and coffee, tea.
DINNER:
Typically
DISHES and stuff like that: Our compact outdoor kitchen includes a cook top/oven, fridge, double sinks, cutlery, dishes, pots n pans and all the basics to cook a meal.
Saturday and Sunday you are on your own, help yourself to leftovers in the fridge, pack a lunch, take a buddy or two (or more) and find something to do. There are occasionally special Sunday dinners... we'll make sure you know in advance!
TRANSPORTATION & getting here.
Air Travel
Nanaimo BC Airport (YCD) offers a Airporter shuttle service for the Greater Nanaimo Region, including Lantzville, Cedar, Extension and Yellow Point, as well as Ladysmith, Duncan, Parksville, Qualicum Beach and Nanoose.
BC Ferries
BC Ferries offers numerous trips daily to and from Vancouver Island. Website | Toll Free: 1-888-223-3779
Bus Options from..
Vancouver trip planner
Victoria trip planner
Nanaimo - the stop you will get off is at the foot of Lions Way, Qualicum Bay. You will be right in-front of the Sandbar Cafe & Art Gallery. If you're tired... have a lovely cup of tea, and then continue from there. Cross the street and walk one block up Lions Way, take the first right onto Lioness Blvd and keep on walking. The driveway is about ½ km long. You will know you've arrived once you cross the Railway, the RDN trail and arrive at the green gates. Keep right, you've almost arrived at the Bear Paw Cafe.
You will likely be greeted by Bentley, our standard poodle. He will love you... although he may bark to let us know you've arrived.
All work and no play is no way to spend your life. There are so many things to do on Vancouver Island, the local islands and in our area. Except for our summer working bees, we take Saturday and Sunday off. So do our guests, so we can rest, recharge and have time to explore.
Tony and I live a very simple life, on the property in our 5th wheel trailer with Bentley. We are happiest working on our project, welcoming people from all over the world into our lives. In August we host an annual 'friends and family' summer party. I hope you will join us, good food, music, great people, fun conversations.
Our guests enjoy trips to Tofino and Ucluelet, exploring Cathedral Grove, Coombs Out Country Market "goats on the roof", Free Spirit Spheres, and O.U.R Ecovillage tour. That's just to name a few; we are in the heart of one of the best recreational area in BC!
This is just an 'at a glance' of some of things you can see and do in the area. We look forward to welcoming you