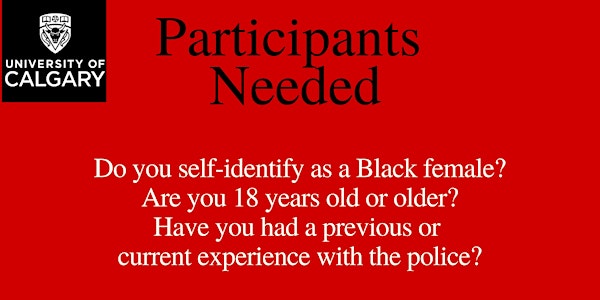 Recruiting participants for University of Calgary research study
Recruiting participants for University of Calgary study on Black women's experiences with the police - $40 honorarium available
About this event
The Faculty of Social Work at the University of Calgary is currently recruiting participants for a study titled "Black Women's Experiences with the Police in Alberta," led by lead researcher Dr. Patrina Duhaney. This study has been approved by the University of Calgary Conjoint Faculties Research Ethics Board (REB21-0504).
The purpose of this study is to: (1) develop and mobilize knowledge to increase awareness of the complexities of criminalized Black women's relations with police; (2) inform and influence police practices, policies and community engagement with Black women who have been criminalized; and (3) contribute to the scant literature on criminalized Black women's experiences with the police.
To be eligible to participate in this study, participants must be Black women who live in Alberta, are 18+ years old, and who have had previous or current experiences with the police. The decision to participate in these interviews is voluntary and participants can say that they are not interested in participating or decide to withdraw at any time during the interviewing process. Participants in the study will receive a $40 honorarium.
If you are interested in participating in the study, please let us know, and we will reach out to you to arrange a brief pre-screening interview. The pre-screening interview is a brief 5-10 minute conversation via phone call or Zoom to ensure you meet the eligibility criteria for the study and answer any questions you may have. Thank you in advance for supporting us in this important work. If you are interested in participating, please contact blckwomenexperiences@ucalgary.ca