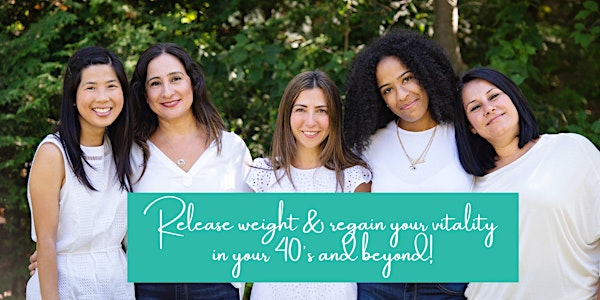 Release weight & regain your vitality in your 40's and beyond!
Join our webinar and learn what your body needs in your 40s and beyond to release weight naturally, without dieting and endless exercise
About this event
If you are anything like 90% of the women I work with, you feel like your body is working against you since you entered your 40s. You feel exhausted and your emotional health is deteriorating.
You've been struggling to lose the same 20 lbs for over ten years. Except now, it seems impossible to come off, and you're feeling heavier and more bloated with each passing year.
You feel like you're losing your vitality. You can't seem to go longer than two days without feeling zapped of energy by 3 PM, which causes you to crave food you're desperately trying to give up.
Between the demands of your job, family, and personal commitments, you feel exhausted. You take care of everyone else but seem to have neglected yourself, and it's now catching up with you.
You want to make a change both for yourself and your kids. You can see that your poor habits creeping into their worlds, and you want to help them, so they avoid the pain you're currently experiencing.
You know you need help and guidance because you just can't seem to make the lifestyle changes you desire and even the things you try don't seem to help you.
If any of the above sounds familiar then you don't want to miss our webinar!
In this 60 minute live call we will teach you why
IT'S NOT YOUR FAULT!
And we will help you uncover the ROOT CAUSE of your symptoms.
You see, most of us are told to follow a generic solution like eat less and exercise more.
It's like looking at an iceberg and thinking what's above the surface of the water is all there is to it. But clearly, the largest part is beneath.
And that's how it is with your health. You NEED to address the root issues that are causing your weight gain, uncomfortable bloating or fatigue. Doing it the other way around requires a lot of willpower and simply doesn't work in the long term.
So join us on this training and learn the keys to turn this all around!