Retire Early With RRSP [Part 2]

Tuesday, 22 September 2015 from 6:30 PM to 10:00 PM (EDT)
Event Details
Retire Early With RRSP [Part 2]

Is Your Registered Savings (RRSP, TFSA, LIRA, RDSP etc...)
working as hard as you are to get you to your retirement?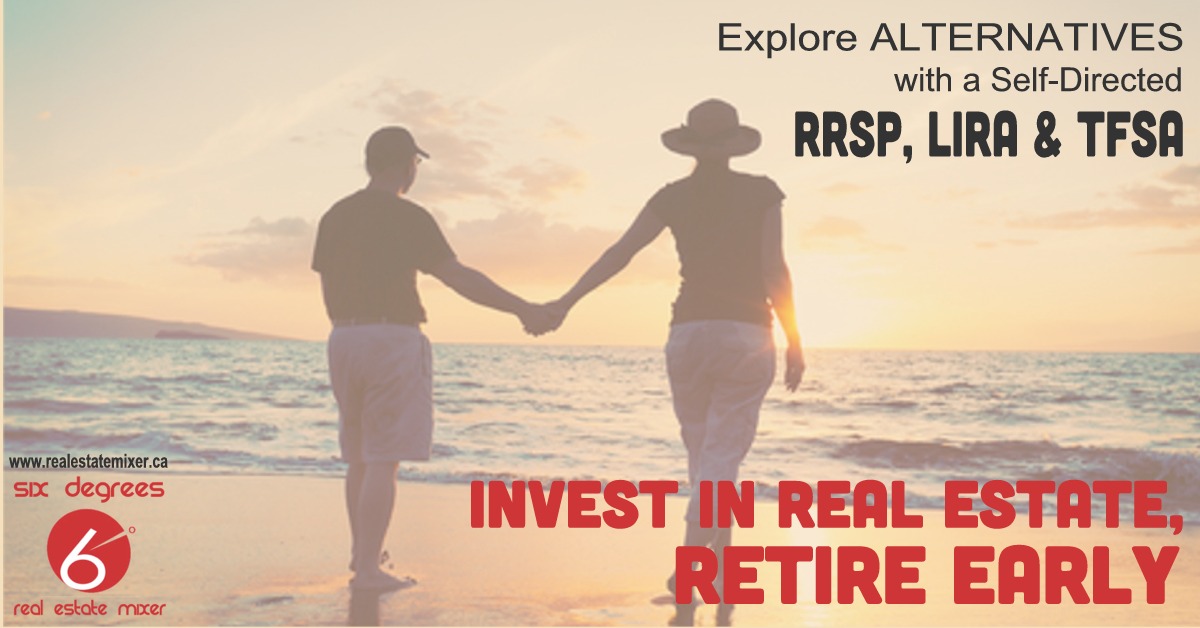 Tuesday, September 22, 2015
@6:30 pm-10:00 pm @ Signs Restaurant 558 Yonge Street, Toronto, ON M4Y 1Z1, Canada
Admission: $25 (includes dinner and education)

It's tangible, it's solid, it's beautiful. It's artistic, from my standpoint, and I just love real estate. Donald Trump
Learn how your registered account can invest in real estate and earn fixed returns of 8% or more.
Discover how you can purchase real estate with your registered money*.

Jonathan Weaver, our educator for the evening is passionate about sharing the financial and investment principles he has used himself to reach his financial balance point.
Jonathan & Laure will be sharing personal experiences. By the end of the evening, you'll make better decisions about your financial future.
Come prepared... Bring with your Mortgages Statement(s), and RRSP statement(s) and Join us....
6:30pm Doors Open ~ Networking & Mingling at the bar
7:00pm Jonathan Weaver, Educator and Real Estate Entrepreneur
& Laure Ampilhac, Mortgage Agent & Certified Wealth Management Advisor
9:00pm - 10:00pm ~ Networking at the bar
Click here to sign up to the Meet-up List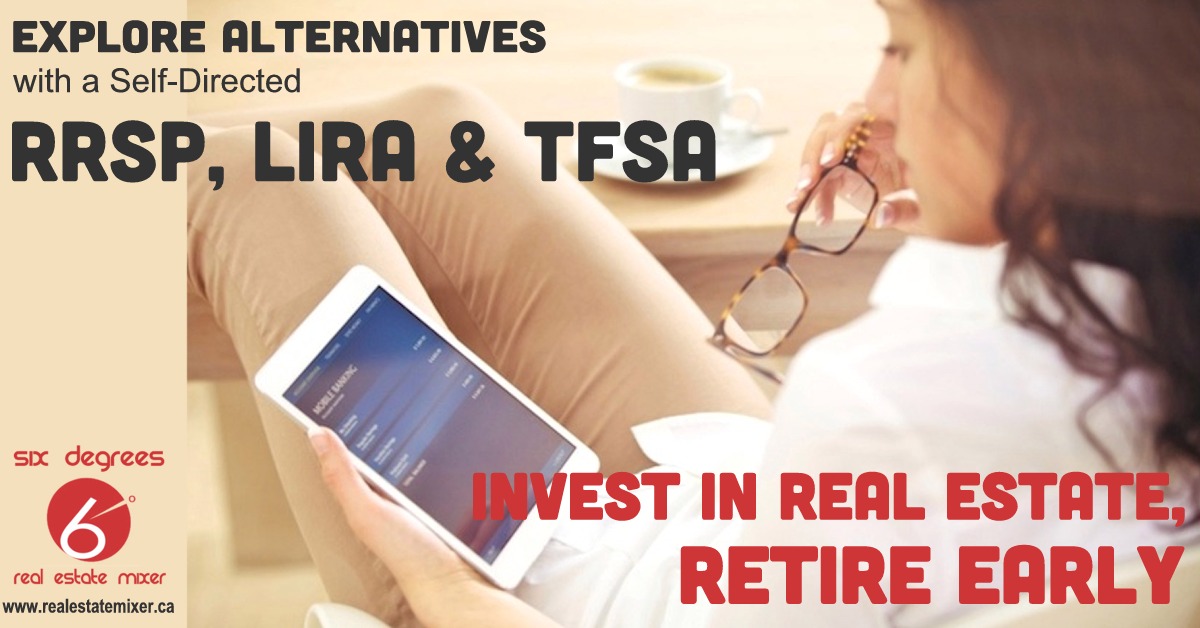 A Self-Directed RRSP is a great way to save for retirement.

Come and learn how you can technically open a Trust Account for your Self-Directed RRSP.

You will also learn about Arm's length mortgages, Non-arm's length mortgages, Mortgage Investment Corporations (MIC), RRSP mortgages, and all the strategies to maximize your registered plans.

What is a Self-Directed RRSP?

A Self-directed RRSP is an RRSP account (not an investment) that allows you to hold a wide variety of investments within one single trust account.

Self-directed RRSPs give you more freedom and control over your investment portfolio, tax-deferred. You have the opportunity to tailor your portfolio and become a money lender by directing your capital into an approved trust account that is then able to lend said funds into mortgages for higher fixed returns, secured on real estate.

Contrary to the name, self-directed RRSPs do not have to be self-managed. You can have a wealth management advisor help you manage your self-directed RRSP.


Who is it for?

A Self-Directed RRSP might be a good choice for you if…

- You want more control on your future and plan properly for your retirement income.
- You already have a large deposit-based RRSP and now wish to diversify your investments
- You already hold investment securities (e.g., stocks, bonds, etc.) which you now wish to put in a tax-deferred plan
- You want the convenience of one simple statement


Six Degrees Real Estate Investors mixer
GUEST SPEAKER
Jonathan has been investing in Real Estate since 1992 when he bought his first investment property.
17 years ago, Jonathan and his wife Cathie bought their first multiplex investment property, and subsequently bought two more.
In 2008, as a result of their real estate investments, the Weavers were able to take 18 months to set a world record while raising more than $400,000 in donations to Ronald McDonald Houses across North America
In the last 5 years Jonathan & Cathie have made a transition from Landlord to Lender. In addition to becoming a private lender himself, Jonathan and his business partner Richard Pyper just completed a 2 year consulting project with a Canadian Financial institution they built Canada's only self directed RDSP and put together a Syndication program for the OSFI regulated institution.
Jonathan shares his expertise with Mortgage Agents and the public on a regular basis. He helps Mortgage Agents through a Guaranteed Profit System and helps the general public through Public Seminars.
The objective, to Educate the public that mortgage money can be used to make you wealthy vs the Training the bank provides that keeps you in debt as long as possible
--
Jonathan T Weaver, Principal

www.PeakPerformers.net
www.RRSPsafeHaven.com
416 855 4776
m 416 528 8028
tf 866 244 0550
Laure Ampilhac
After 15 years as a Business development Executive in France and Canada, Laure left the corporate world during the 2009 recession, to follow a new path.
Robert Kiyosaki's Rich Dad Education led her to a career in Real Estate Investing, creating multiple sources of active and passive income.  Laure is a real estate entrepreneur, a property manager, a mortgage agent and now a Certified Wealth Management Advisor.  Her expertise and her passion for Early Retirement has allowed her to mentor and empower home-owners to acquire more properties and build a long-term retirement strategy using their home equity, life savings and Registered Retirement Savings Plans (RRSP, LIRA, TFSA). 
Exploring Real Estate Investments
- Income properties (for Cash flow)
- Investing in Private mortgages (Become a Money Lender)*
- MIC (Mortgage Investment Corporation)*
- Pre-Construction
- Real Estate Investment Groups (Syndications)*
* RSP-eligible investments

Mortgage Agent & Certified Wealth Management Advisor
✆ (416) 358-9686 ✆ (877) 764-9492
iBrokerPower Capital Inc (The Mortgage Centre) Lic# 10538
www.laureampilhac.com
www.linkedin.com/in/laureampilhac
MORE INFO AT:
PS: Admission:$25 (includes dinner). Bring lots of business cards and good vibes!

When & Where

Signs Restaurant
558 Yonge Street
www.signsrestaurant.ca
Toronto, ON M4Y 1Z1
Canada

Tuesday, 22 September 2015 from 6:30 PM to 10:00 PM (EDT)
Add to my calendar
Organizer
✔ Laure Ampilhac
╚► Helping Canadians RETIRE EARLY WITH REAL ESTATE ★ Leveraging home equity ★ RRSP ★ Designing Early Retirement Plans
☆☆ Real Estate Investments Consultant | Certified Wealth Management Advisor | Mortgage Agent | Refinancing | Private Mortgage Lending | Six Degrees Real Estate Investors Mixer

My expertise and my passion for "early retirement" has allowed me to mentor anxious Canadian families and home owners who have not managed to invest their life savings effectively.

I help them acquire properties, diversify their investments and build a long-term retirement strategy using their home equity, savings and Registered Plans (RRSP, RESP, LIRA & TFSA).

Today, my clients include home-owners and individual investors who are ready to fathom new avenues for their own investments. I help them by:
★  Educating & Empowering though the Six Degrees Real Estate Investors Mixers (www.realestatemixer.ca meetup).
This is where I bring together seasoned investors, speakers and mentors from various backgrounds.

★  Educating & Coaching though one-on-one consultations.
This is where we take stock and compile their savings, pension, investments and available home equity (net worth).

★ Designing and Implementing a retirement income plan with a new investment strategy that incorporate their current locked investments with new acquisitions.These cater to the clients' current AND future cash flow needs.

Specialties: Real Estate Investing | Mortgages | Financing  | Private Money Lending | Alternative Investments | Pre-Construction Townhomes | RRSP | TFSA | Rental Property | Retirement planning | Wealth creation | Wealth management | Asset protection
► Visit www.laureampilhac.com to schedule your FREE Consultation!
► or call 416-358-9686

When working with investors, we explore the following real estate investment vehicles:
❶ Income properties (for Cash flow) and Pre-Construction TownHomes
❷ Investing in Private Lending (Mortgages & MIC)*
❸ Alternative Real Estate Investment (Private Equity and Syndication)*
* RSP-eligible
Retire Early With RRSP [Part 2]