If you own or operate a salon, spa or nail bar in Ontario you are going to want to attend the Safe Reopening Plan for Ontario Webinar!
About this event
Join us in the Bio Sculpture Virtual Classroom to learn more about the recently formed Beauty United Council of Ontario and the work they are doing in collaboration with the government of Ontario and Public Health to safely reopen the personal services industry in Ontario.
We will be joined by Annette Palumbo, the Executive Director of Beauty United, to let you know more about the changes that are coming to our industry that would prevent future lockdowns, and what you need to do as a beauty industry professional to get ready for these changes that will take effect in the coming weeks.
This event is open to beauty industry professionals living and working in Ontario.
We want to be treated fairly
Every Canadian has been impacted by COVID-19, at home and at work, however the pandemic has not affected all businesses and workers equally, and governments have made choices that have supported some more than others. The personal care sector has been particularly impacted: forced to close early, forced to stay shuttered weeks after other businesses were open again.
Beauty United Council of Ontario is a member-based non-profit, grassroots attempt by people in the industry and those who support it to speak out and stand up for ourselves.
We want to be treated fairly, we want to work with the government and we have seen the Premier work well with other industries - We want to continue to be good partners and keep people safe and want to be prioritized in the reopening and we are doing the work to be ready. Our sector is huge, in every corner of every town across Ontario, you will find a barber, a salon, body art professional that helps shape communities. We are economic engines and Beauty United will be able to help with data on our sector for the first time in history.
VERY IMPORTANT: When you register, please make sure to enter your email address correctly!!
For more information please contact us at 1-877-424-6435 x 80 or education@biosculpturenails.com
Follow us on IG @EvoGelCanada and FB @BioSculptureGelCanada!
All class times are indicated in Eastern Standard Time.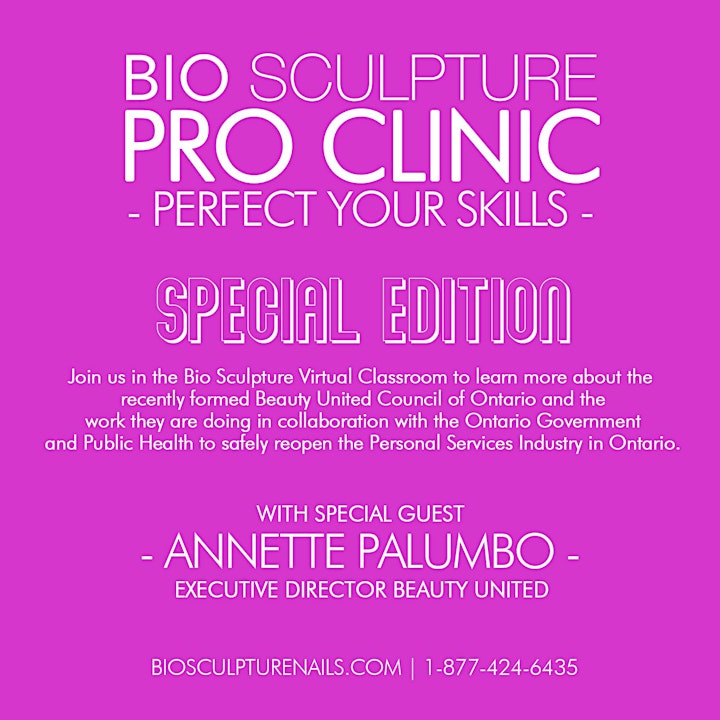 Organizer of Safe Reopening Plan for Ontario Beauty Industry presented by Beauty United