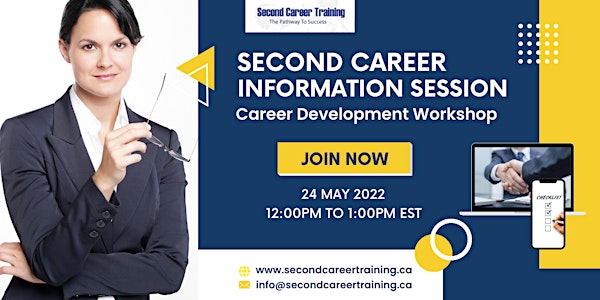 Second Career Information Session and Career Development Workshop
FREE Online Second Career Information Session and Career Development Workshop
About this event
The Second Career Information is now in high demand at Ontario, Canada. If you're laid-off, unemployed individuals or needing a career change this program might works for you.
Government of Ontario funded retraining program for an individual like you. Second Career will also extend its helping hand in order to find you a full- time employment in the current labor market. Training will from 6 months up to 12 months prior, it will make your transition into high skilled occupations.
Benefits of attending the workshop:
1. FREE Tuition available for eligible students
2. Receive $500 upon Enrollment
3. Additional $200 Gift Card
4. Flexible Schedule Available
5. Be job ready within 1 Year!
Be a part of our growing community. Register and learn more about us!
REGISTER NOW !
OR
Send us an email at : info@secondcareetraining.ca