Sales Have Ended
Registrations are closed
THANK YOU for REGISTERING for the Cruise Cochrane - Seniors & Staff Lodge Cruise! If for some reason you need to cancel your attendance please come back to this site (save it in your favorites) and cancel your Registration. We required up to date Registration Counts for our Partners in this event. www.CruiseCochrane.com Email: CruiseCochrane@Gmail.com
Sales Have Ended
Registrations are closed
THANK YOU for REGISTERING for the Cruise Cochrane - Seniors & Staff Lodge Cruise! If for some reason you need to cancel your attendance please come back to this site (save it in your favorites) and cancel your Registration. We required up to date Registration Counts for our Partners in this event. www.CruiseCochrane.com Email: CruiseCochrane@Gmail.com
This Cruz started back in 2020 as a result of the Covid 19 Pandemic. The Senior's were locked in to their Lodges with NO Visitors allowed.
About this event
STAGING STARTS AT 11:30am!
Families could be seen sitting outside the windows of the Lodges with their hands pressed against the glass... Many tears were shed!
Nurses and staff were working to maximum to do what they could do to try and keep morale up and Covid 19 away. Many of them left each day exhausted hoping they wouldn't spread the disease to their own families back at home.
A year and a half later... here we are in the summer of 2021!
No one could have believed in the beginning that the lock downs and pandemic would rage this long. In fact we planned this cruise for the spring of 2021 and it had to be postponed due to a return of the disease and further lock-downs.
NOW Let's show them all our support and love... Let's spread some JOY!
Most of them relate to the older models of antique cars & trucks.
All of them love the sights and the newer Hot Rods too!
DO IT NOW - Go to our website at www.CruiseCochrane.com and sign up for the Cruz Newz - in order to get the Instructions, Directions and be Entered for the PRIZES!
LAST YEAR WE HAD OVER 200 CARS ATTEND! Do Not Miss This Event!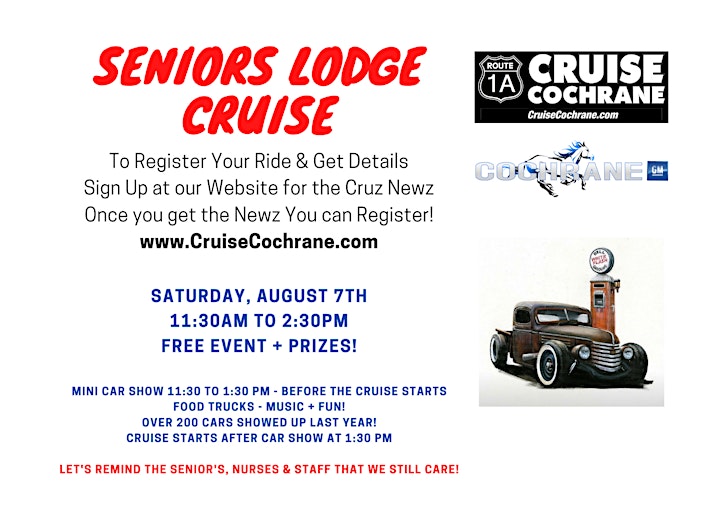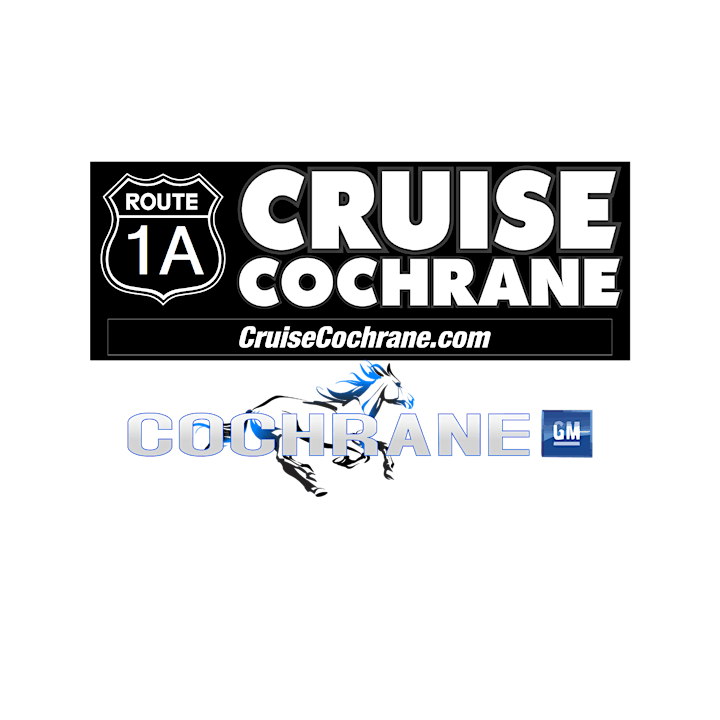 VIDEO of the Hot Rods getting staged for last year's event - The 2020 Senior's Lodge Cruise.
Organizer of SENIOR'S & NURSING STAFF LODGE CRUISE
COOL RIDES - CRUISING THE FOOTHILLS & ROCKY MOUNTAINS West of CALGARY. ALBERTA, CANADA.
Established in 2018, Cruise Cochrane was developed by "Car-Guys" who wanted to do more than Show & Shines.
They wanted to drive their rides too!
Located a quick and easy 14 minute drive from Calgary out west in the scenic foothills.
We love cruising the back-roads, country & counties, foothills & the mountains too.
We also cruise to Show & Shines, do some Destination Cruises and more!
Each event is different.
You need to sign up to our Cruz Newz to get all the details! (Sign Up at www.CruiseCochrane.com).
Geared towards the culture of North American built Classics such as:
Hot Rods, Pro Street, Cool Pickup Trucks, Rat Rods, New & Old Muscle Cars & Cool Performance Machines in general.
If you like the movie American Graffiti and old tyme Rock & Roll music from the 50's & 60's you will fit right in!
We invite you to join us - Great Family FUN!
We are casual & we are an event - NOT a club - NO MEMBERSHIP FEES.
Follow Us on Facebook at Cruise Cochrane too!
You will need to have our Cruz Newz newsletter to get the details, instructions and other important information so be sure to sign up at our website: