September 20, 2017 CGS-SOS Dinner Lecture - Eurocode 7: An accidental design code? (1.5 Hours PEO PEAK)

Wednesday, 20 September 2017 from 5:30 PM to 8:30 PM (EDT)
Event Details
Abstract: EN1997 Geotechnical Design, often familiarly referred to as Eurocode 7, has been in wide use worldwide for almost a decade and is now undergoing a period of significant revision. The revised Code is due to be published in 2020. However, in some respects the existence and form of the Code can humorously be considered to be the result of a series of accidental decisions.  
This presentation will begin with an outline of the political historical background to the Code, and indicate how political and technical decisions -- both deliberate and accidental -- taken over many years, together with what seems to be some fundamental misconceptions, have led to the current Code.  Following this the revision process will be described, in order to offer insight into how some of the results of the accidental decisions are being corrected and how some will be perpetuated. To conclude, a brief summary will be given of the improved and new features the revised Code may contain and how these may affect the application of the Code in the coming decade.
Speaker: Prof. John P. Harrison. John Harrison holds the W.M. Keck Chair of Engineering Rock Mechanics in the Department of Civil Engineering at the University of Toronto. He received his BSc in Civil Engineering and MSc in Engineering Rock Mechanics from Imperial College London, and his PhD in Engineering Rock Mechanics from the University of London, UK. He has been a UK Chartered Engineer and member of the Institution of Civil Engineers since 1984. He joined the University of Toronto in 2010, and for about the past decade his research has focussed on uncertainty quantification in rock mechanics and the development of reliability based design in rock engineering. He is currently convenor of the CEN Task Group on improving the applicability of Eurocode 7 to rock engineering design, and is the chairman of the ISRM Commission on the Evolution of Eurocode 7.
When & Where

St. Bernard Church
1789 Lawrence Avenue West
Toronto, ON M6L 1E3
Canada

Wednesday, 20 September 2017 from 5:30 PM to 8:30 PM (EDT)
Add to my calendar
Organizer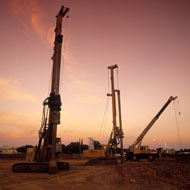 About Us
The Canadian Geotechnical Society Southern Ontario Section (CGS-SOS) represents the national organization at the local level centered at the Greater Toronto Area (GTA) and covering some cities in Southern Ontario. The CGS-SOS was established in the early 1970s and forms the largest region of the Society. Its purpose is to provide opportunities for continuing education (through lectures and seminars), and for constructive dialogue and sharing of experiences. This is accomplished through organizing events on about a monthly basis.
The Canadian Geotechnical Society (CGS) is an independent, federally incorporated, non-profit learned society which exists to serve and promote the geotechnical and geo-science community in Canada. It encompasses a wide spectrum of scientific and engineering disciplines within the geotechnical field. Membership is open to individuals from all sectors including private consulting, universities, industry, contracting and public services.