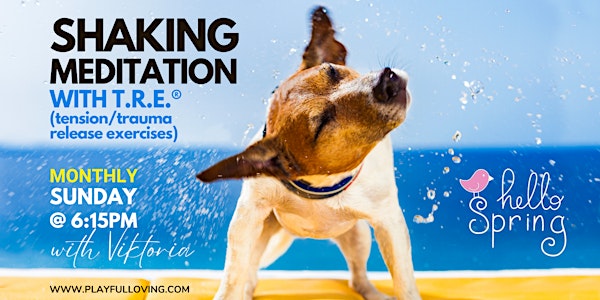 SHAKING MEDITATION with T.R.E.® (Tension /Trauma Release Exercises)
Join me to gently CLEAR & RESET your body, mind & heart. So you can fully engage & connect with yourself, life & loved ones!
By Viktoria | Love & Intimacy Coach & Counsellor
Date and time
Sun, Jun 4, 2023 6:15 PM - 7:45 PM EDT
Location
Studio 308 - (Dixie Park Centre) FREE Parking 1550 South Gateway Rd 3rd Floor Mississauga, ON L4W 5K3 Canada
About this event
1 hour 30 minutes

Mobile eTicket
You are invited to attend a SHAKING MEDITATION with T.R.E.® on a FULL MOON this month. A time of RELEASING that which does not serve YOU!
Your are Invited to SHAKE, SHIMMY, & BREATHE AWAY all that bad energy and stress you have taken on daily, weekly, over time. Similar to taking a shower to wash away the daily grime.
Join us and RELEASE Body Tension/Trauma, RELAX Your Mind, and RECONNECT to your Heart. So you can live in a healthy state of balance and JOY!
The Shaking Meditation (TRE®) created by Dr. Berceli, is an innovative and therapeutic restorative body care and maintenance modality. Encouraging the body to release deep muscular patterns of stress, tension, and trauma. Done through a series of exercises that safely activate your intuitive shaking/vibrating body release mechanism.
Helping you in resetting and re-regulating your nervous system in a safe space. Allowing the body to return to a state of balance.
The Shaking Meditation with Tension & Trauma Releasing Exercises (or TRE®) is based on the fundamental idea, backed by research, that stress, tension, and trauma is both psychological and physical. TRE®'s reflexive muscle vibrations generally feel pleasant and soothing.
After doing this Shaking Meditation (TRE®), many people report feelings of peace and well-being. TRE® has helped thousands of people globally.
Benefits Include:
Less Worry & Anxiety
Reduces Symptoms of PTSD
More Energy & Endurance
Improved Marital Relationships
Less Workplace Stress
Better Sleep
Less Relationship Conflict
Reduced Muscle & Back Pain
Increased Flexibility
Greater Emotional Resiliency
Decreases Symptoms of Vicarious Trauma
Healing of Old Injuries
Lessened Anxiety surrounding Serious Illness
Relief from Chronic Medical Conditions
This therapeutic muscle tremoring/vibrating evoked by the exercise process is a natural, internal, neuro-physiological response of the body to reduce its own stress and restore a sense of well-being.
The Shaking Meditation (TRE®) is a body-based (somatic) process that can help in discharging tension from the body, which often does not require "revisiting the story". (ie: verbally describing or talking about the traumatic experience). Also, a great compliment to other therapeutic modalities.
LOCATION: Studio 308 - Dixie Park Centre, 1550 South Gateway Rd, 3rd Floor, Mississauga (off Dixie Rd and South of Eglington) >>PARKING is FREE<< Please Arrive on Time.
WHAT TO BRING?
1. yoga mat
2. two blanket(s)
3. closed water bottle
4. please arrive on time
REGISTER: $55pp (tax & Eventbrite fee Inclusive). Space is limited. Save your spot today!
PREFER a private guided Shaking Meditation (T.R.E.® ) - session ($150 for 1.5hr) please inquire: viktoria@playfulloving.com
----------------------------
WHAT PEOPLE ARE SAYING:
" What an incredible experience, my body feels lighter and a sense of relief." ~T.P.
"I've been to Viktoria 's Shaking Meditation (T.R.E.®) group session and her unique way of offering it brought me to a deeper connection with my emotions. 💙 I felt so relaxed and rejuvenated after letting my body do It's thing and shake off any subconscious energetical or body blocages. 🙏🏻✨ I strongly recommend 🍂 it's autumn and the season of letting go and shedding is here." ~Bee
-------------------------------
"The Shaking Meditation (TRE) is an amazing experience & Viktoria is a wonderful guide🙏. Her kindness & respect for others is reflected in her teaching style & she is always attentive to the participants. I am very grateful for the experience & look forward to continuing TRE."
Start building rapport right away by responding to the customer and your response will be sent to them automatically! ~I.S.
-------------------------------
Look forward to seeing you! Wondrous delights, Viktoria
About the organizer
Viktoria is a holistic love, intimacy, relationship, and sexual wellness coach & counsellor of 15+ years. An avant-garde provocateur and radical Tantra love agent and kick-ass mentor.
A Transformational Counsellor, Life Coach, and Author. Reiki practitioner, Yoga instructor of Hatha, Laya, and Trauma Sensitive Yoga. Tantra Teacher and Compassionate Communication Facilitator. Trainer of the following massage modalities: Holistic Chi Kung massage and Bondassage, and Elysium. She is also a T.R.E. (Tension/Trauma Release Exercise) certified provider. Creator and Trainer of Soma Love ®, touch & energy movement massage.
She helps women, men and couples struggling with disconnection, anxiety, frustration, trauma, and bedroom boredom with regard to intimacy, communication, relationship and sexual wellness with self and partner.
Dedicated to creating safe and nurturing environments to somatically release negative emotions, trauma, anxiety, and tension. Viktoria expertly supports and empowers men, women, and couples to authentically and live fully, love deeply, laugh often, and get the vibrant healthy intimacy they desire through private coaching, programs masterclasses and training.
Helping people reconnect with confidence, presence, and passion with themselves first and then with their loved ones.
Helping you to become an amazing partner and lover.
Helping you build confidence to attract the right partner for you.
Helping you learn what works for you and your sex life.
All done through transformational learning dynamics, self-empowerment practices, healthy boundary setting, compassionate communication, confidence building with practical guidelines for success and much more.
She resonates with powerful presence. Always inspiring your curiosity and creativity to flow fully into your life. Always moving you towards realizing your confidence and profound potential. Always guiding you towards your innate ability to heal from within and live a phenomenal life.
Her life philosophy: Be mindfully aware and always within your boundaries of safety, consent, and comfort levels with respect, honour, and trust with yourself first and reciprocally with loved ones, family, friends, and people in other circles of your life.
Viktoria, Holistic Intimacy, Relationship & Sexual Wellness Coach, Counsellor, and Confidante.
Helping women, men & couples get the vibrant & healthy intimacy they desire.
416-887-5621
viktoria@playfulloving.com
www.playfulloving.com
IG: @playfulloving
FB: @playfulloving

Intimacy = Into-Me-See /Into-You-See: Empowering self-awareness & confidence in and out of the bedroom so you can... Be an amazing lover and partner. Communicate your needs and desires. Attract the right partner for you. and Learn to heal from sexual trauma.