Location
The Revue Cinema
400 Roncesvalles Ave
Toronto, ON M6R 2M9
Canada
Refund policy
Refunds up to 7 days before event
Eventbrite's fee is nonrefundable.
Stompbox presents the Toronto theatrical premiere of the remastered Psychedelic 80s sci-fi animated film, DELTA SPACE MISSION!
About this event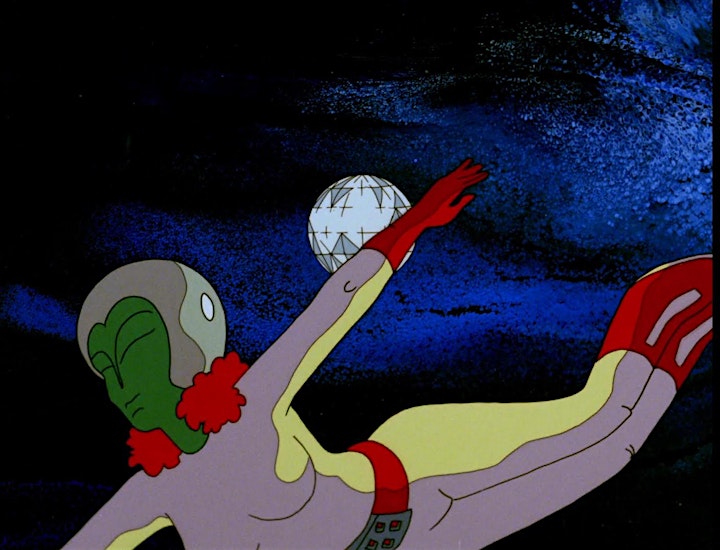 STOMPBOX: DELTA SPACE MISSION – Psychedelic 80s sci-fi animation!
Toronto theatrical premiere!
For tripped out fans of FANTASTIC PLANET and HEAVY METAL and space-age synths - imagine an early 80s Eastern European electronic space-prog album high on sugary breakfast cereal, Moebius, Hanna-Barbera cartoons and 8-bit arcade games like Galaxian and Asteroids, and you have some idea of the otherworldly weirdness of the animated sci-fi film DELTA SPACE MISSION – Romania's first ever animated feature.
In the year 3084, a Modigliani-esque alien journalist with blue-green skin, Alma, boards a state-of-the-art spacecraft named Delta – whose highly advanced HAL-like computer brain develops a mad teenage crush on her with disastrous results.
An incredibly strange and strangely beautiful work of galactic eye candy fueled by an addictive, groovy electronic synth score by Calin Ioachimescu, DELTA SPACE MISSION - with its egg-shaped spaceships, giant floating triangles and anthropomorphic destructive computer – brings to mind Kubrick's 2001: A SPACE ODYSSEY, Rene Laloux's TIME MASTERS and Roman Kachanov's THE MYSTERY OF THE THIRD PLANET. Long unavailable, the film has recently been scanned in 4K from the camera negative by the Romanian Film Archive and Romanian Film Centre (CNC) for its first-ever North American release by Deaf Crocodile. Stompbox is very proud to present DELTA SPACE MISSION theatrically for the first time ever in Ontario.
ABOUT THE FILM
Delta Space Mission
Romania | 1984 | 68 minutes
DIRECTOR: Mircea Toia & Calin Cazan
CAST: Mirela Gorea, Marcel Iures, Dan Condurache
LANGUAGE: Romanian with English subtitles
ABOUT STOMPBOX:
Stompbox is a music-on-film event, screening and performance series active since 2016, curated by David Bertrand.
Regular admission applies. For INDIVIDUAL MEMBERSHIPS ($350) and FAMILY MEMBERSHIPS, please email us at info@revuecinema.ca to get a ticket!