An eerie, poetic, site-specific contemporary dance-theatre performance in Mississauga
About this event
This event is now over, we're sorry you missed it! Please check out War of the Worlds Reimagined, our next performance, coming up in September 2021. It's a radio play, and like Stories in the Woods, it'll give you a generous dose of science fiction - Click here!
Here's a description of Stories in the Woods 2021
After its initial premiere in October 2019, Frog in Hand is remounting this eerie, poetic, site-specific contemporary dance-theatre performance. With 9 chances to experience the wonder on August 5-7, 13 & 14, make sure to reserve your tickets at the link below as tickets are limited to accommodate social distancing. Audiences will be led in small groups through the spooky grounds of the Small Arms Inspection Building in Mississauga as they embark on a 60 minute journey inspired by science fiction and climate change ("cli-fi"). Encounter Noelle Hamlyn's breathtaking visual designs as you immerse yourself in a cinematic world of sound and light; witness the performance as it happens all around you.
** NO TICKETS AVAILABLE AT THE DOOR, PRE-SALES ONLINE ONLY ** This is to ensure we meet restrictions and comply with social distancing.
Credits
Artistic Director, Creative Concept: Colleen Snell
Director of Visual Design: Noelle Hamlyn
Rehearsal Director: Alice Cavanagh
Dramaturge & Creative Mentor: Daniel Levinson
Lighting Designer: Echo Zhou
Technical Directors: Evan Harkai and Nicholas Simmons
Logistics: Heather Snell & Jill Hollingsworth
Sound Design: Miquelon Rodriguez, with contributions from Colleen Snell & Callahan Connor
Assistant Costume Designer: Mariana Sandoval-Angel
Production Assistant and Assistant Stage Manager: Angela Xu
Business Manager and Assistant Stage Manager: Jessica Cen
Makeup Design & Consultant: Nina Mueller
Ager and Dyer: Caroline Forde
Performers & Collaborators
David Norsworthy
Rebecca Diab
Andrew Gaboury
Callahan Connor*
Colleen Snell
Alice Cavanagh
Michael Derworiz*
Rohan Dhupar
With the 2021 Summer Company:
Erin Eldershaw*
Stephanie Harkness
Ankita Alemona
Eilish Shin-Culhane
Zoe Kwan
Maria Riano
Sierra Goldak
Annalise Grammacione
Kaitlyn Seibold
Daniela Jezerinac
Understudy and Docent: Nicole Decsey
* The participation of Callahan Connor, Erin Eldershaw and Michael Derworiz is arranged by permission of Canadian Actors' Equity Association
Funding: The Canada Council for the Arts, Ontario Arts Council, Mississauga Arts Council, City of Mississauga, Canada Summer Jobs, Port Credit Community Foundation, Hazel McCallion Foundation.
Special Thanks: Sawmill Sid, Heather and Ken Snell, Jill Hollingsworth, Megan Press, TRCA (Stella Ku)
Images by Nettie Seip featuring Jarrett Siddall, Elke Shroeder and Alice Cavanagh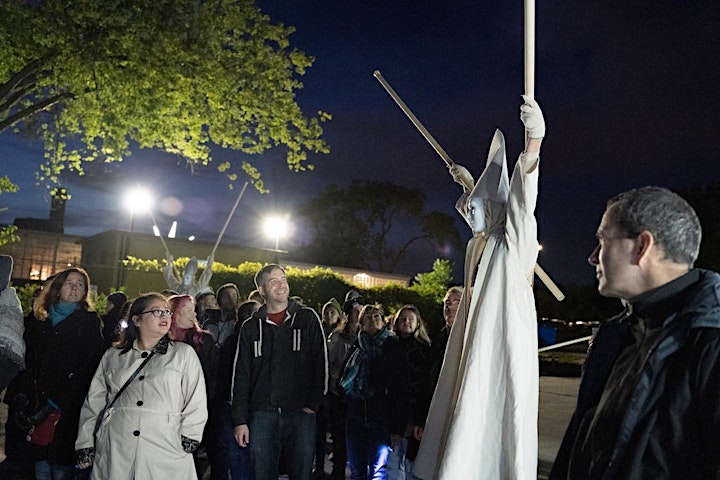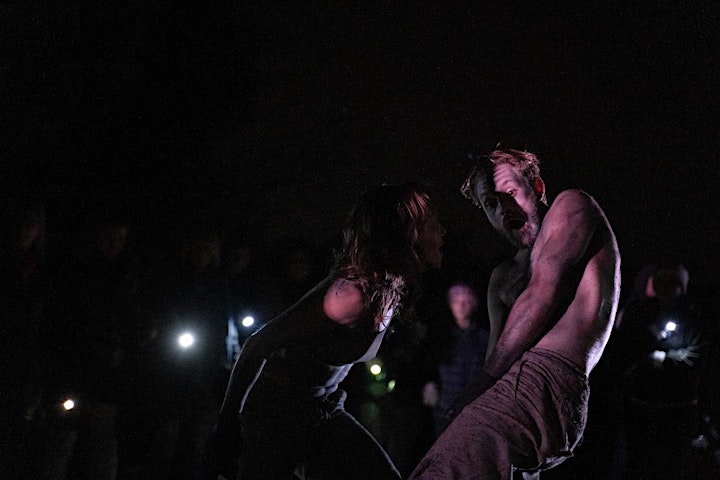 Organizer of Stories in the Woods: An Immersive Performance by Frog in Hand
Frog in Hand began with a cast of frogs performing circus tricks under the artistic direction of two sisters, Noelle Hamlyn and Colleen Snell, who were one and five years old at the time. From this whimsical debut springs our firm belief that art begins in humble places – including the mud and grass of the backyard. Building on this modest foundation we have formed a diverse collective of dancers, fight choreographers, musicians, actors, spoken word poets, costume designers and visual artists who come together to create cross-disciplinary performances in unusual spaces. Our collective has national and international professional experience, having trained and performed in Canada (Ottawa, Toronto, Vancouver, Montréal), the United States (Chicago, Miami, New York), Japan, China, Korea, India, Ireland, Israel, Australia and England. Frog in Hand has received commissions from the Canada Council for the Arts (2016), the Ontario Arts Council (2014/15/16/17), the Guelph Dance Festival, Hillside Inside Festival, Art Gallery of Ontario, Kitchener Waterloo's Night/Shift, the Art Gallery of Mississauga, Ontario's Culture Days, the Mississauga Waterfront Festival, Springboard Danse Montreal (2015) and the Banff Centre for the Arts. Frog in Hand has created and produced many dance works – mostly site specific projects incorporating theatrical and visual elements. We've worked in parks, gazebos, a public water fountain, staircases, an abandoned gun factory, an elevator, art galleries, street corners and various theatres. Frog in Hand incorporated as a not-for profit in 2016.
Visit us! https://www.froginhand.com/