Join us at this event to celebrate landowner restoration projects and stewardship activities in the Vermilion River Watershed.
About this event
This event will highlight wetland and riparian area restoration and enhancement projects by landowners in the Vermilion River watershed over the past 5 years. Together, landowners have worked to restore over 20 kilometers of riparian areas along the Vermilion River, creeks, and tributaries, as well as over 150 hectares of wetlands. At this event we will cover the background of how these projects came to be, hear from landowners themselves and the Land Stewardship Centre who will discuss opportunities for similar future projects.
A story map is found here: https://storymaps.arcgis.com/stories/87f9d8acf48441c7af1f3b3c5dabd14e
This event is supported by the Vermilion River Watershed Alliance(VRWA) along with the North Saskatchewan Watershed Alliance. The VRWA is a locally driven watershed stewardship group within the Vermilion River Watershed. It was incorporated as a non-profit society in 2015. The board of directors includes representatives from municipal, provincial, and federal governments, educational institutions, non-profit organizations, and other stakeholder groups. Our goals are centered around the belief that the watershed is the unit of management for human activities that affect the environment, including air, land, water, and wildlife.
Sponsors for these projects included the Government of Alberta through the Watershed Resiliency and Restoration Program, as well as funds from Environment and Climate Change Canada.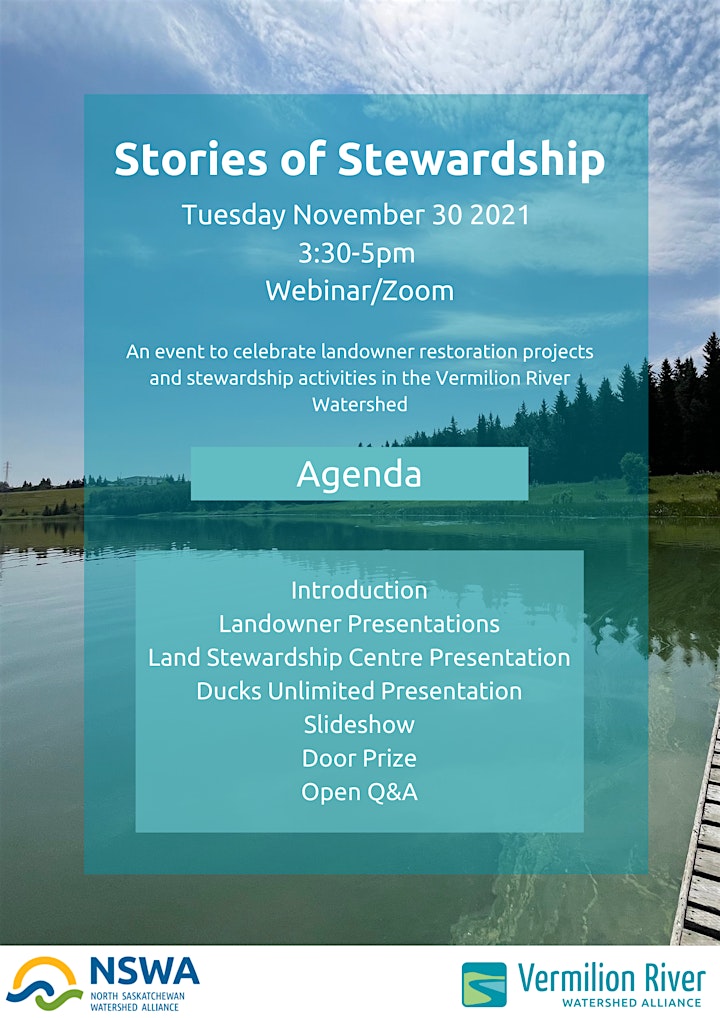 Organizer of Stories of Stewardship
NSWA is one of eleven Watershed Planning and Advisory Councils (WPACs) in Alberta.
NSWA is guided by a Board of Directors elected annually from member organizations within the watershed. It is designated a Watershed Planning and Advisory Council (WPAC) for the North Saskatchewan River under the Government of Alberta's Water for Life Strategy.
The North Saskatchewan Watershed Alliance (NSWA) is a multi-stakeholder watershed protection and improvement partnership formed in 1997 and incorporated as a non-profit society in 2000. The NSWA provides a forum to recognize and address issues affecting the North Saskatchewan River (NSR) watershed in Alberta. It also initiates and supports activities that impact the watershed positively.  The NSWA became a Registered Charity in March 2016.
 NSWA membership includes individual citizen members and organizational members. Organizational membership categories are: federal, provincial, and municipal governments; industry; utilities; agricultural producer groups; environmental and conservation groups; recreational, cultural and tourism groups; educational and research institutions; First Nations and Métis. 
 In 2005, the NSWA was appointed by the Government of Alberta as the Watershed Planning and Advisory Council (WPAC) for the North Saskatchewan River basin in Alberta. As a partner in Water for Life: Alberta's Strategy for Sustainability (2003), the NSWA was given a mandate by the government to report on the State of the Watershed (completed in 2005) and to prepare an Integrated Watershed Management Plan (IWMP – completed in 2012). The IWMP provides watershed management advice to address issues raised by stakeholders and to achieve the three goals of the Water for Life Strategy: safe, secure drinking water; healthy aquatic ecosystems; and reliable, quality water supplies for a sustainable economy.
Vision
People working together for a healthy and functioning North Saskatchewan River watershed - today and tomorrow.
Mission
To educate and increase the public's understanding of watershed protection and its importance by developing and providing programs on the protection and improvement of water quality, water quantity, and the health of the North Saskatchewan Watershed.

To conduct research relating to the protection of the North Saskatchewan Watershed and to disseminate the results of such research.