Succeed in Networking & Cloud Administration- Info session May 2018
Description
This event is relaunched due to overwhelming public demand.

We welcome you to meet our subject matter experts and extract the best industry information that you might need to succeed as a Network Administrator. Our Staff at MCIT team is working hard to deliver the best "Network Admin" training in Quebec, and we invite you check out our open house on how to succeed in the market.
What can you do with Network Admin & Technical support?
This MCIT Network Admin in Cloud /Security Program is designed to allow students to gain intermediate to expert level competencies in technical areas including installation, configuration, maintenance of computer components and peripherals, client and server operating systems and networking fundamentals along with Active Directory Server (ADS) configuration.


Major cloud technology companies invest billions of dollars per year in cloud Research and Development.
Cloud Computing is now changing the IT industry and opening new rewarding career opportunities for IT professionals in Canada, USA, and all over the world.
In 2013 it was reported that cloud computing has become a highly demanded service or utility due to the advantages of high computing power, cheap cost of services, high performance, scalability, and accessibility - as well as availability.
Based on this demand we want to leverage this unique opportunity, we are excited to welcome a brand new experience. Join us for an educational and practical Saturday where you can see, try, experience and understand what become a Computing Cloud Administrator really means. Industry experts will talk about the course and its usefulness to start a career in the field, testimonials from alumni will help you understand the ins and outs of the job, and our dedicated staff will be available to answer all your questions related to the college, market perspectives, loans, and bursaries, etc.
Our new diploma in cloud computing prepares you to have a solid understanding and hands-on training of cloud computing concepts including fundamental technologies, architecture, design, and security.
Our Cloud Administration diploma has the same base courses as our Security Administration diploma in addition to specialty courses in Cyber Security and CEH.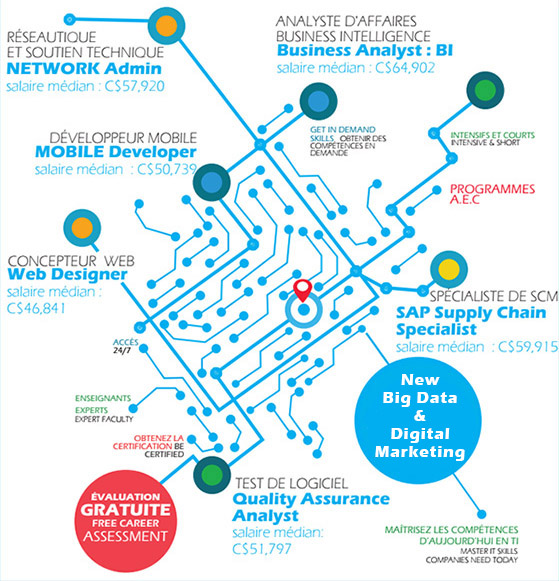 Event Details
Venue : Montreal College of Information Technology
Time : 2:00 pm
Date : Saturday, 26th May 2018
Event Program:
Introduction to instructors and placement programs

Presentation of the program

Jobs and opportunities

Prerequisites

Enrollment & Finance options

Q&A

Career advice

Refreshments
FAQs
Is this the event for me?
Anyone looking to have a career in Computing Cloud requires knowledge and skills from an extremely diverse set of fields. With this workshop, our intent is to show you how working in Networking & Cloud Administration looks like and give you all the information you need in order to pursue your career and training in the industry.
How do I get there?
MCIT can be reached easily by public transportation. The institute is located few steps away from:
By Metro: stop to McGill metro station, exit from the Promenades Cathédrale, and Cross Rue Sainte-Catherine;
By Bus: Bus 61/168/420 at Boul. Robert-Bourassa; Bus 15 at Rue Sainte-Catherine
How can I contact the organizer with any questions?
If you have any question you can contact the organizer anytime:
By phone: from Monday to Friday from 9.00am to 4.30pm at (514) 312-2383;
By email: info@montrealcollege.ca
In person: you can request an appointment with a member of our team. They'll be happy to meet you and answer all your questions. Or you can come and visit at MCIT 1255 Boulevard Robert-Bourassa Suite 502 from Monday to Friday from 9.00am to 4.30pm.