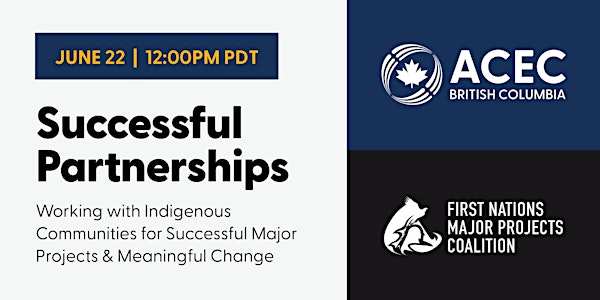 Successful Partnerships with Indigenous Communities
Join ACEC-BC's Equity, Diversity, and Inclusion Committee for a webinar on Working with Indigenous Communities for Successful Major Projects
Refund Policy
Contact the organizer to request a refund.
About this event
The First Nations Major Projects Coalition (FNMPC) recommends having Indigenous-led environmental assessments, tapping into Indigenous-led net-zero carbon policy frameworks, and boosting access to capital so that low-carbon Indigenous infrastructure projects can secure equity ownership.
Join Angel for a presentation about how FNMPC is working with its Members on the creation of Indigenous designed and developed standards, methods and guidance tools ("how to") that are building major project development capacity amongst Indigenous communities, industry, government and more! Angel will also touch on a few key project development achievements.

About the speaker
Angel Ransom is originally from the communities of Nak'azdli Whut'en and Fort St. James, BC but now lives in Prince George, BC. She is the Director of Operations and Impact Assessment Lead for the First Nations Major Projects Coalition.
It is her intentions today to bring her personal Indigenous roots and worldview, along with her professional Indigenous Planning knowledge and experience background to the table.
Angel is a UNBC Alumni with a Bachelor's Degree in Environmental Planning. She specializes in the very unique field of First Nations Planning in the areas of community development, natural resources management, and impact assessments of major projects.
Some of her recent work include leading the development of the First Nations Major Projects Coalition's: 1) 'Major Projects Assessment Standard' and 'Guidance Appendices'; 2) Environmental assessment costing calculator; 3) 'Guide to Effective Indigenous Involvement in Federal Impact Assessment' and an 8-part video series that support the Guide. She is also working with the Cheslatta Carrier Nation on the development of a tiny homes project, an administration/community Centre building, and land use planning policies.