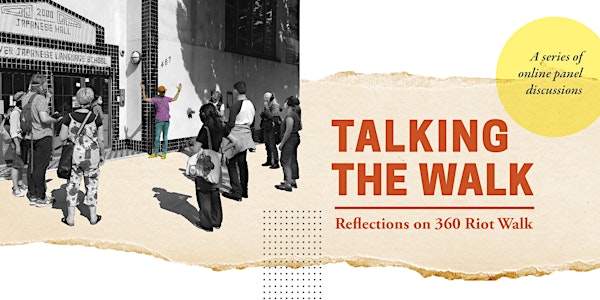 Talking the Walk: What's At Stake
What's At Stake is the third panel discussion of the series Talking the Walk: Reflections on 360 Riot Walk
Refund Policy
Contact the organizer to request a refund.
Eventbrite's fee is nonrefundable.
About this event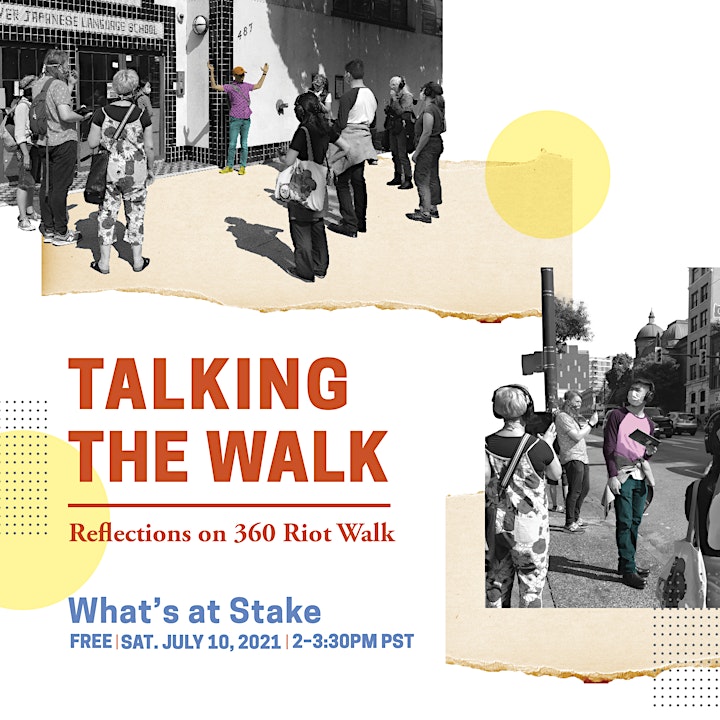 Talking the Walk: Reflections on 360 Riot Walk is a series of online panel discussions that use 360 Riot Walk as an entry point to explore the history of anti-Asian violence and white supremacy in Vancouver.
In the third and final panel of the series, contributing writers to the 360 Riot Walk website speak to a breadth of significant issues and events that led to, and resulted from the 1907 riots. With Angela May, Michael Barnholden, Melody Ma, Paul Englesberg, facilitated by Henry Tsang.
360 Riot Walk is an interactive walking tour of the 1907 Anti-Asian Riots in Vancouver that traces the history and route of the mob that attacked the Chinese Canadian and Japanese Canadian communities following the demonstration and parade organized by the Asiatic Exclusion League in Vancouver. Participants are brought into the social and political environment of the time where racialized communities were targeted through legislated as well as physical acts of exclusion and violence. The soundtrack is available in four languages of the local residents of the period: English, Cantonese, Japanese and Punjabi.

Panelist
Michael Barnholden has worked in construction, agriculture and forestry, child care, disability advocacy, teaching and publishing. He has written 10 books of poetry and several non-fiction titles. His editorial work includes Writing Class: The Kootenay School of Writing Anthology and poetry collections such as Roy Miki's FLOW and Garry Thomas Morse's forthcoming Lexicon Standoff. Barnholden is also a photographer, painter, and carver.
Melody Ma is a community organizer and neighbourhood advocate for Vancouver's Chinatown. She led a campaign called #SaveChinatownYVR that helped defeat a controversial development project 105 Keefer. In 2018, she coordinated the Chinatown Summer Events series as a way for the community to reclaim space. Melody is also a writer on urban issues and her opinion editorials have appeared on The Tyee, Toronto Star, Vancouver Sun, Georgia Straight, and the Globe and Mail.
Angela May is a PhD Student, writer, and community activist. As a mixed (white/non-white) Japanese Canadian settler, she is committed to fighting for justice in her home of Vancouver, BC, where her work considers the legacies of displacement and the durability of memory, particularly in the city's Downtown Eastside.
Paul Englesberg is an educator and local historian. He was a lecturer in educational foundations at Western Washington University and a Professor of Education at Walden University. He is currently writing a book about early Punjabi immigrants in the Pacific Northwest with a focus on the Bellingham and Everett riots of 1907.
Moderator
Henry Tsang is an artist and occasional curator whose projects explore the spatial politics of history, language, community, food and cultural translation in relationship to place. Henry teaches at Emily Carr University of Art & Design.

360 Riot Walk is an artwork by local artist Henry Tsang whose projects explore the spatial politics of history, language, community, food and cultural translation in relationship to place. His artworks employ video, photography, language, interactive media, food and convivial events in the form of gallery exhibitions, public art, pop-up street food offerings, curated dinners and more. Henry teaches at Emily Carr University of Art & Design.
This series is hosted by the Powell Street Festival in partnership with the Dr. Sun Yat-Sen Classical Chinese Garden. Financial support for the creation of 360 Riot Walk was provided by Creative BC and the BC Arts Council, Neighbourhood Matching Fund of the Vancouver Board of Parks and Recreation, and a SSHRC Explore Grant through Emily Carr University.