Tech Talks: The Art of Fluid Animation

Thursday, 4 February 2016 from 6:00 PM to 8:00 PM (EST)
Event Details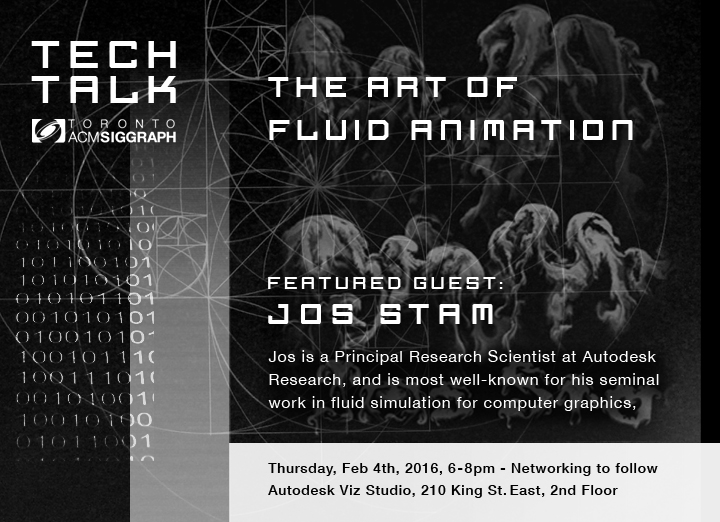 Continuing with the theme of fluid animation for this year's Tech Talks, the Toronto ACM SIGGRAPH Chapter is proud to start our 2016 event lineup hosting a gentleman who needs no introduction (but we'll give one anyway! 

J

): Jos Stam. 
Jos is a Principal Research Scientist at Autodesk Research.  He is most well-known for his seminal work in fluid simulation for computer graphics, although he has also published work in rendering and surface modeling, especially subdivision surfaces.  Jos holds Masters and Ph.D. degrees in computer science from the University of Toronto, which he pursued following the completion of dual Bachelor degrees in computer science and pure mathematics in Geneva, Switzerland, where he grew up.  Jos has received many prestigious awards, including the ACM SIGGRAPH Computer Graphics Achievement Award in 2005 and two Technical Achievement Awards from the Academy of Motion Picture Arts and Sciences: one in 2005 for his work on subdivision surfaces and one in 2007 for his work on fluid simulation.
Recently, Jos has finished his (first) book, titled "The Art of Fluid Animation."  In this book, Jos describes, in a fun manner, visually rich techniques for creating fluid-like animations that do not require advanced physics or mathematical skills.
Please join us for a conversation with Jos on Feb. 4th at the Autodesk Viz Studio.  Jos will present a few points from his new book and will share a few insights and fun stories from his long and productive career.
When & Where

Autodesk Visualization Studio
210 King St E
2nd Floor
Toronto, ON M5A 1J7
Canada

Thursday, 4 February 2016 from 6:00 PM to 8:00 PM (EST)
Add to my calendar
Organizer
The Toronto ACM SIGGRAPH Professional Chapter is an organization dedicated to the generation and dissemination of information on computer graphics and interactive techniques in the Greater Toronto Area. We are a membership organization that values passion, integrity, excellence, volunteerism, and cross-disciplinary interaction in all of our activities.
Our Vision: One day, every citizen of the Greater Toronto Area will discover their his/her passion for computer graphics.
Our Mission:
To draw together, support, and build the local computer graphics community by producing events where professionals and students can experience, discuss, and celebrate interactive techniquesthe wonder of computer graphics.
To expand the professional networks of our members in the local computer graphics industry
To produce generate excitement and appreciation for computer graphics in the general public
To promote ACM SIGGRAPH and the SIGGRAPH conferences
Visit our website and join us!