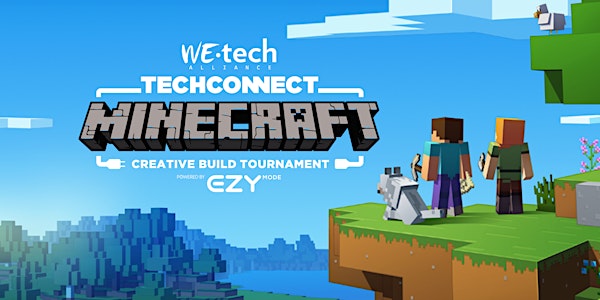 TechConnect Minecraft Creative Build Tournament
Calling all dreamers and innovators! Come build your bold vision for the future of #YQG & #CKont with WEtech Alliance & EZY mode.
When and where
Date and time
Sat, May 2, 2020 9:00 AM - Tue, May 5, 2020 9:00 AM PDT
About this event
In many of the conversations we've had with our clients and local tech companies, one of the biggest concerns that kept coming up about teams working remotely was maintaining the company culture and connection with co-workers. Despite being far from the office because of the pandemic, this tournament is engineering a creative way to help teams stay connected.
The Tech Connect Creative Build Tournament powered by EZY Mode is open to everyone and every age group in Windsor-Essex and Chatham-Kent who have access to Minecraft – Java Edition on Mac or PC and invites dreamers, innovators, students, companies and community to build a vision of our region's brightest future using Minecraft.
The theme for the tournament is The Future is SMART. Builds can include buildings, smart-homes, machines, agriculture 2.0, landmarks, smart city infrastructure, landscapes, neighbourhoods, or anything that distinctly displays the evolution of Windsor-Essex (#YQG) and Chatham-Kent (#CKont).
COMPETE AS AN INDIVIDUAL OR TEAM!
Register as an individual or as part of a team of up to 5 players!
AWARDS
Each build will be viewed and assessed by esteemed panel of judges on the lookout for amazing innovation and creativity!
Three winners will be crowned "Architects of Awesome" in the Individual Category and 1 winner will be crowned in the Team Category.
Each winner will receive a Gift Card for a family/team pizza night from Oven 360.
TEAM
Teamwork Makes the Dream Work Award: The winner of this award has to do 3 simple things. 1) Build as a team (hence the teamwork thing). 2) Design a build that makes even our most discerning of judges tremble with awe. 3) Build with community in mind – The team build that wins will exhibit a keen sense of a future built to lift our community to the next level.
INDIVIDUAL
Where's Our Time Machine Award: This award recognizes the build that makes our judges most want to hop and skip through time, just to see the build come to life.
Eureka Award: Your build is worthy of this award if it demonstrates the ability to solve big problems experienced by the masses and has potential to scale to meet those needs.
People's Choice Award: This award celebrates the most creative and eye catching build that resonates with "the people" after a public voting period on social media.
DETAILS & REQUIREMENTS
1) On the day of the competition we will release the server url for you to join and start. Once in the server we will navigate you through where you can go and where you will be building.
2) You MUST have a copy of Minecraft - Java Edition on Mac or PC to participate. Console and mobile versions are not supported. You will need to install version 1.14.4 from the java launcher.
3) Teams can have a MAX of 5 players. Have more players? Create a second team and compete head-to-head!
4) You MUST join the EZY mode Discord server where we will be communicating through the duration of the event. Note for teams: You will need to tell your team name to the EZY mode Mod on Discord and they will get you all placed in the same plot of land.
There will also be a voice channel for all participants to chat in (optional).
5) Plot sizes will be 100x100 blocks for individuals and 200x200 blocks for teams.
A big thanks to our friends at EZY mode for helping to power this event!
See you in Minecraft!
About the organizer
WEtech Alliance is a non-profit organization helping accelerate the footprints of innovation & tech-based companies in Windsor-Essex (#YQG) and Chatham-Kent (#CKONT), Ontario Canada.