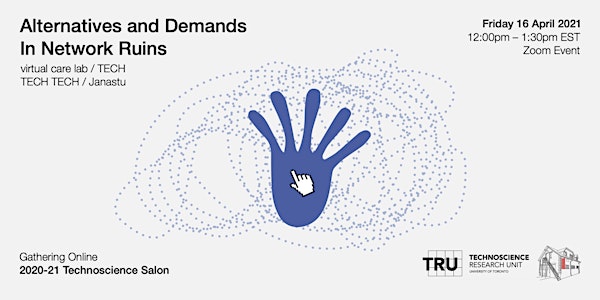 Technoscience Salon :: Alternatives and Demands in Network Ruins
Panel for 2020-21 Technoscience Salon :: Gathering Online
About this event
Alternatives and Demands in Network Ruins
Times :: 12pm – 1:30pm EDT [UTC-4] Toronto / Montreal :: 9:00am – 11:30am PDT [UTC-7] Los Angeles / Phoenix :: 9:30pm – 11:00pm IST [UTC+5.5] Bidar
As the rush towards gathering online has sheds more light on the legacies of the digital technologies industry we also see attempts to create vibrant and joyful worlds. The act of assembling these alternatives asks us to confront our complicities in global technologies. And yet that confrontation can not be where we stop. It also asks us to practice responsible worldmaking together as we imagine otherwise.
How can the politics of demand be a tool against big tech? How can refusal address the inequalities in the making, use, and afterlives of digital worlds? How can we enact alternatives to existing platforms and infrastructures from the midst of this network's ruins (Tsing, 2015)? How can we look with new eyes for signs of life in the ruin that can serve as seeds for pluralist futures?
We ask you to reflect with us during a self-guided web crawl into conversation with virtual care lab, TECH TECH TECH, and Janastu, to start to glimpse at possible networked futures. The event will be moderated by Dawn Walker who is a design researcher and PhD candidate at the Faculty of Information, as well as a member of the Technoscience Research Unit.
virtual care lab creates opportunities for genuine presence, purposeful online/offline connection and collaboration, and digital well-being. Their projects have included many unconventional virtual gatherings, focused discussions, collective performances, creative activities, and collaborative online spaces, and are all available to the public. An exercise in mutual governance, virtual care lab is co-founded by Alice Yuan Zhang and Sara Suárez, operating in fluid collaboration with Lea Rose Sebastianis and other community members, and organized in partnership with NAVEL, a non-profit cultural organization and community space in Los Angeles.
Alice Yuan Zhang (she/her) is a 1st generation immigrant who makes homes in AR filters, browsers, and community networks. She furnishes them with dreams of post-capitalism, phone lines to interspecies neighbors, and tools for time travel, inviting in playful ancestors of the future. Alice is the co-founder of virtual care lab, a resident artist at CultureHub, and an involved member of NAVEL Los Angeles. She studied at University of California, Berkeley and currently lives on unceded Tongva, Kizh, and Chumash land.
Kenny Zhao is a composer, artist, and digital tinkerer who is exploring the relationship between compost and creative practice. He produces and performs under Zhao, and maintains a live-streamed music production diary called "Office Hours" on YouTube. His recent single [HOPE] is out on Bandcamp and Spotify. http://zhaomusic.com
Sara Suárez (she/her) makes experimental film and soundscape compositions that explore collective memory, landscape, and sensory perception. Her work has been screened by Slamdance, the Film & Video Poetry Society, Los Angeles Filmforum, ICDOCS, and Alchemy Film & Moving Image Festival, and other venues. She is a co-founder of the experimental platform virtual care lab and manages public programming at Zócalo. She is an MFA graduate of CalArts and lives in Los Angeles.
Janastu. Last mile connectivity, community owned meshes and devices...what it takes to break away from mainstream global metaphors imposed on the technology we use everyday and in the process explore newer ways of being in a digital space. 
Can we imagine a space that reflects and produces the richness of our world's multiple forms of knowledge? We, at Janastu, attempt to subvert the bias of the text-heavy internet; breaking away from western notions of digital technologies impacting society to enable alternate vernacular narratives with community-owned devices and mesh networks at its heart. We explored ideas of intranet of local informal archives that would collectively function as a knowledge network as well as devices used socially. During the course of the project, we came to see both the limitations of technology but also the potential of it to catalyse and nurture many more spaces of cultural collaboration.
Shafali Jain (she/her) is currently building her practice in the space of community and technology. At Janastu, she is pursuing research on how to move away from textually prolific internet through annotations and hypermedia communication. As a new media artist and designer, her work puts the audience in a dilemma, triggering them to question the existing systems in place and look beyond the horizon. (Milli)
Micah Alex (he/him) aspires to be a maintainer among various collectives learning to nurture conversations, efforts and people. He works with these collectives in the domains of open technology, human rights in the digital, art-based design practice, archival, and annotation and cultural research undertaken in the Dakkhani region. He also freelances as a content writer, proofreader, and copywriter. (Living Labs Network and Forum, Design Beku, Janastu, Agamashaala, Milli)
Ada X | TECH TECH TECH exists because we want to use feminist digital tools and platforms. But it's hard to do : most of us don't have the time or resources to quit Google, Facebook, Microsoft, Apple, Amazon, and the conveniences they provide. With researchers Liane Décary-Chen and Sarah Choukah, and Ada X team members, we're getting started with a series of trials, errors, and (hopefully) discoveries.
Liane Décary-Chen (she/her/they) is an artist and creative technologist working in digital media and cultural intervention. She is interested in creating work that grows inside of the digital systems she seeks to dissect. More specifically, she uses her own virtual selfhood to explore identity, media, social structures, and issues of "truth." Décary-Chen has worked in numerous fields, including wearable computing, games, interactive filmmaking, and tech education. She has previously collaborated with TAG Lab, Vice Quebec, Cambridge Radical Tech Series, the International Marketplace for Digital Art, and Shanghai Design Week.
Sarah Choukah (she/her) aims to further situate and explore feminist intersections of digital cultures, communication, media art and biotechnology. Her research and practice focus on broadening the range of operations —such as transmission or storage—that make up communication technologies. She uses the space within that broader range as a creative medium to access more-than-human-life dimensions and contact trans-species forms of life. She hopes to further unsettle familiar perspectives on communication to better understand and share potentials for exclusion to transmute into care.
Moderated by :: Dawn Walker is a design researcher and PhD candidate at the Faculty of Information. Her research focuses on the possibilities for social transformation in the design of alternative internet infrastructure. In particular how values of justice, autonomy, and sovereignty operate in (web) decentralization projects. She completed her Master's of Information at the University of Toronto in 2016 and also holds an Honours Bachelor of Arts with Distinction in Philosophy and History.