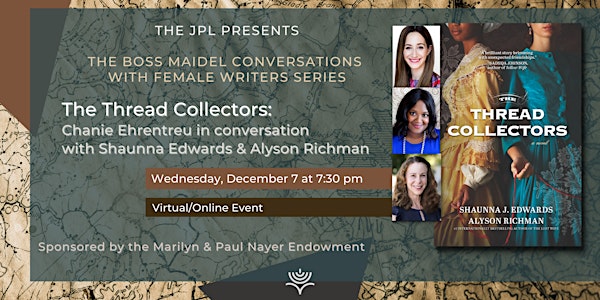 The Boss Maidel Conversations with Alyson Richman & Shaunna Edwards
Sponsored by the Marilyn & Paul Nayer Endowment | Chanie Ehrentreu in conversation with Alyson Richman & Shaunna Edwards
About this event
The JPL Presents the "Boss Maidel Conversations with Female Writers Series"
In this new series, Chanie Ehrentreu in conversation with female Jewish authors, and offers the opportunity to explore in depth their lives, thoughts and works. This is an interactive series and will encourage conversation and questions from the audience in an informal and intimate virtual format.
Chanie Ehrentreu is the creator and host of The Boss Maidel Podcast, exploring the emotional components that help women achieve success as entrepreneurs, creatives, mothers, etc. She has interviewed various successful entrepreneurs and New York Times best selling authors including Lori Gottleib, Dani Shapiro and Asha Lemmie.
Recently, Chanie launched The Boss Maidel Book Club as a means of creating community around reading and supporting authors during the pandemic. The Boss Maidel Book Club features monthly member meet ups as well as interviews with various authors. Born and raised in Montreal, Chanie currently lives with her husband and children in Los Angeles.
Conversation with Alyson Richman & Shaunna Edwards
Chanie Ehrentreu talks to the novelists, Alyson Richman and Shaunna Edwards, who co-wrote The Thread Collectors, which explores life in a small Creole cottage in New Orleans in 1863 and tells two intertwining stories of longing, separation and hope.
Stella, a young Black woman, helps enslaved men flee and join the Union Army by embroidering intricate maps on repurposed cloth, hiding her activities from the violent man she is bound to.
Meanwhile, a Jewish woman in New York City stitches a quilt for her husband, stationed in Louisiana with the Union Army. After months with no word from her husband, she resolves to travel south and search for him through a perilous war-torn America.
Loosely inspired by the authors' own family histories, this moving novel demonstrates that sometimes the most delicate connecting-thread is the very thing that saves us.
***
ALYSON RICHMAN is a USA Today and #1 international bestselling author of historical fiction.
Alyson graduated from Wellesley College with a degree in art history and Japanese studies. She is an accomplished painter and her novels combine her deep love of art, historical research, and travel. Alyson's novels have been published in twenty-five languages and have reached bestseller lists both in the United States and abroad. She lives on Long Island with her husband and two children, where she is currently at work on her next novel.
Her novels include The Velvet Hours, The Garden of Letters, and The Lost Wife, which is currently in development for a major motion picture.
Find her on Instagram, @alysonrichman
SHAUNNA J. EDWARDS has a BA in literature from Harvard College and a JD from NYU School of Law. A former corporate lawyer, she now works in diversity, equity and inclusion.
She is a native Louisianan, raised in New Orleans, and currently lives in Harlem with her husband.
The Thread Collectors is her first novel. Find her on Instagram, @shaunnajedwards