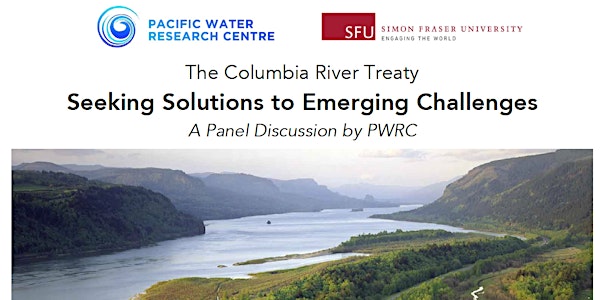 The Columbia River Treaty: Seeking Solutions to Emerging Challenges
When and where
Location
Vancouver Simon Fraser University 515 West Hastings Street, Room 1700 Vancouver, BC Canada
Description
Note: the discussion is being live streamed on our facebook page: https://www.facebook.com/envsfu
Please join, Moderator, Zafar Adeel, Executive Director of the Pacific Water Research Centre at SFU for a panel discussion on the Columbia River Treaty. Invited panelists include:
Eileen Pearkes, Author, A River Captured: The Columbia River Treaty and Catastraphic Change
Deborah Harford, Executive Director of the Adaptation to Climate Change Team and Coordinator of Climate Change Initiatives, Pacific Water Research Centre, SFU
Bob Sandford, EPCOR Chair for Water and Climate Change Security, United Nations University and Co-Author, The Columbia River Treaty: A Primer
Kelvin Ketchum, retired BC Hydro, Columbia River Treaty and reservoirs operations veteran
Abstract:
The ratification of the Columbia River Treaty in 1964 was a landmark event, with significant implications for hydropower generation and flood protection. One of the largest transboundary international water treaties in the world, it has met with considerable success over the decades in addressing these issues from Canadian and American perspectives. However, implementation of Treaty dams and associated operations created negative impacts for BC Basin residents, farmers and First Nations that continue today, while emerging challenges pertaining to ecosystem impacts, sustainability of fish habitats, and changing climate and hydrological patterns are gaining prominence for river basin management around the world. Equally, issues of equity and social justice have a different connotation today than was the case in 1964. The panelists will explore these emerging challenges and issues, and discuss how BC, Canada and the US can utilize the Columbia River Treaty or modifications to it as a way of responding to these emerging concerns. The panelists – who represent a broad range of professional and social perspectives – will also engage with the audience in an interactive dialogue.
We hope you are able to join us.