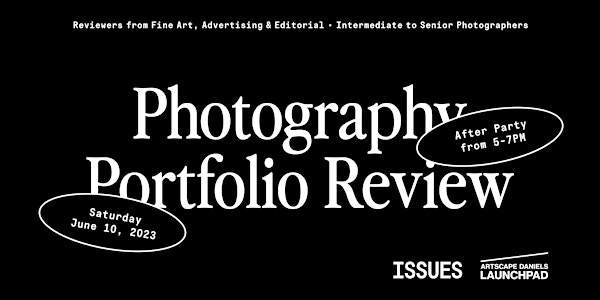 The First Annual Issues Photography Portfolio Review
Photographers! Come share your book and connect with with art buyers and agents from the editorial, commercial and fine art worlds.
Date and time
Sat, Jun 10, 2023 9:00 AM - 7:00 PM EDT
Location
Artscape Daniels Launchpad 130 Queens Quay East #4th Floor Toronto, ON M5A 0P6 Canada
Agenda
9:00 AM - 10:00 AM
Registration
---
Please arrive by 9:30AM for the morning session. You'll receive your reviewer assignments upon arrival.
10:00 AM - 1:00 PM
AM Session
---
Each session is 20 minutes in length.
1:00 PM - 2:00 PM
Lunch Break
---
Please arrive by 1:30PM for the afternoon session. You'll receive your reviewer assignments upon arrival.
2:00 PM - 5:00 PM
PM Session
---
Each session is 20 minutes in length.
5:00 PM - 7:00 PM
After Party
---
Stay for a cocktail and to bump elbows with the rest of the community!
About this event
The first annual Issues Photography Portfolio Review is an opportunity for photographers to show their work to a wide array of art buyers, creatives, and agents from the art, advertising and editorial sectors.
Hosted by Issues Mag Shop in collaboration with Della Rollins, who saw a gap in the industry events: As intermediate and senior level photographers, there aren't many opportunities to show off your book. Come because you're curious about transitioning into commercial work. Or you want to explore the world of fine art. Or you're craving the creativity of editorial projects. Or maybe you just hate making cold calls.
Our roster of reviewers have been carefully selected. They're all folks with the power to choose who gets repped, covered, hired and/or shown.
THE DETAILS
Saturday, June 10, 2023
Artscape Daniels Launchpad, East Tower, 130 Queens Quay E, 4th Floor, Toronto, ON M5A 0P6
THE SCHEDULE
AM Session: 10:00AM – 1:00PM
PM Session: 2:00PM – 5:00PM
After Party: 5:00PM – 7:00PM
EARLY-BIRD PRICING (UNTIL MAY 28)
3 reviews, 20 minutes each = $200
6 reviews, 20 minutes each = $350
9 reviews, 20 minutes each = $500
12 reviews, 20 minutes each = $650
STANDARD PRICING (STARTS MAY 29)
3 reviews, 20 minutes each = $250
6 reviews, 20 minutes each = $400
9 reviews, 20 minutes each = $550
12 reviews, 20 minutes each = $700
THE AFTER PARTY
Tickets: $20
Open to everyone, whether you're attending the review sessions or not.
Space is limited, so don't sleep on these!
THE REVIEWERS
Amanda MacInnis, Lead Agent & Executive Producer, FUZE Reps (AM)
Batu Gursel, Senior Graphic Designer, Lead Design, Holt Renfrew (AM/PM)
Chris Allen, Creative Director, Bruce Mau Design (PM)
Della Rollins, Photo Editor, Studio Wyse (AM/PM)
Diti Katona, Chief Creative Officer, Concrete (PM)
Gilbert Li, Creative Director, The Office of Gilbert Li (AM/PM)
Isabella Juskova, Senior Designer, Holt Renfrew (AM)
Jacqueline Lane, Executive Creative Director, Whitman Emorson (AM)
Jed Tallo, Creative Director, Freelance (PM)
Jessica Diaz, Manager, Art Direction, Holt Renfrew (PM)
John Montgomery, Art Director, Reader's Digest Canada and Sélection (AM/PM)
Joy Xiang, Editor, C Magazine (PM)
Kym Del Roche, Divisional Vice President, Creative Services, Holt Renfrew (PM)
Liz Sullivan, Deputy Visuals Editor, The Globe and Mail (PM)
Mariam Kohyar, Agency & Account Manager, FUZE Reps (PM)
Mark Neil Balson , Creative Director, Superfantastic (TBD)
Niall Kelly, Creative Director, Conflict (PM)
Nicola Hamilton, Art Director, Best Health, Precedent, Serviette (AM/PM)
Olga Nataeva, Art Director, BBDO Canada (TBD)
Ronit Novak, Manager Art Direction, Loblaw Agency and Broadview Magazine (PM)
Sara Knelman, Executive Director and Publisher, C The Visual Arts Foundation (AM)
Setareh Saramedi, Creative Producer, Independent Producer (PM)
Solana Cain, Photo Editor, Globe and Mail, The Globe and Mail (PM)
Steph Mill, Producer & Artist Rep, The Co-Lab (AM)
Sun Ngo, Creative Director, Chatelaine (AM)
Taras Slawnych, Visuals Editor, Toronto Star, Toronto Star (PM)
Taylor Kristan, Art Director, Cottage Life Magazine (AM/PM)
Vanessa Wyse, Creative Director Studio Wyse (PM)
AND MORE COMING SOON!
We'll ask you some nosy questions when you register, which will help us match you up with the right reviewer. If there's someone specific you'd like to see, let us know on your order form and we'll do our best.
THE FINE PRINT
Registration closes on Wednesday, June 7 at 5PM EST.
Spots are limited.
Reviewer assignments will be given to you at registration.
No refunds.
If you register for more than six reviews, you'll need to make yourself available for the entirety of the day.
Reviewer preferences are just that and cannot be guaranteed. Assignments will be given on a first-come-first-serve basis so the earlier you sign up the better chance you'll have of sitting down with your choices!
THE SPONSORS
Want to be a sponsor? Want to sponsor reviewees? Want to host a workshop? Got questions? Email us at hello@issuesmagshop.com.
About the organizer
Issues is a magazine shop that carries hard-to-find, independent magazines from around the world.