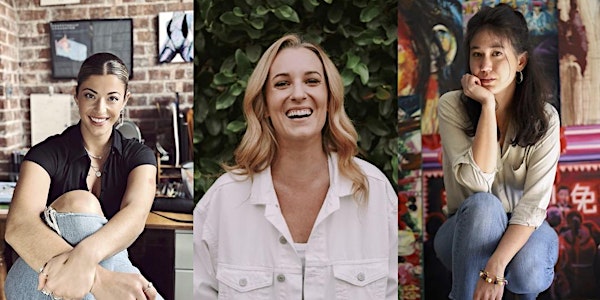 The Gallery presents Alyssa Villani, Laura Sills, & Kaarina Chu Mackenzie
A 2-week art installation at HUB seventeen featuring work by Alyssa Villani, Laura Sills, and Kaarina Chu MacKenzie.
When and where
Location
lululemon Flatiron 114 5th Ave New York, NY 10011
Refund Policy
Refunds up to 7 days before event
Eventbrite's fee is nonrefundable.
About this event
The Gallery at HUB seventeen will feature art by three local, female-identifying artists, sharing work that explores New York and the human form. The Gallery includes two evening ticketed events, The Mic and The Dialogue.
The Gallery visiting hours are as follows: *Mon-Sun 12-5pm
*The Gallery will not be open to the public on Fri, August 19th.
The Mic: Live Music by Chris Stanley: Wednesday, August 17th Doors open at 6:00pm
Enjoy a night of live jazz music and an opportunity to connect with the artists.
The Dialogue: The Artistic Process: Wednesday, August 24th Doors open at 6:00pm
Enjoy a discussion exploring the artistic process and the ways in which art contributes to our well-being. Moderated by Natalie Zisa with Alyssa Villani, Laura Sills and Kaarina Chu MacKenzie as panelists.
Upon entering lululemon Flatiron, walk down the stairs to your left. If signage is up and the rope is down, the Gallery is open to the public.
Meet the Artists:
PenBrushInk: Alyssa Villani is the artist behind PenBrushInk. She primarily focuses on figure portraiture in the form of both original and digital paintings and drawings.
Laura Sills: a photographer based in New York City. Her style is best described as romantic and a little bit surreal, both of which were amplified over the last two years during the pandemic. She uses color and well-spotted reflections to enhance the romanticism and often movie-like quality that the city has — even on its bad days. She often collaborates with the brand New York or Nowhere, a sentiment that resonates with New Yorkers everywhere and one that she hopes her work both portrays and enhances. Her work has also been featured in Travel & Leisure and Whalebone Magazine.
Kaarina Chu MacKenzie: a Taiwanese-American painter and photographer based in Woodstock, NY. Born in Washington D.C., and raised in Beijing, Kaarina's work explores themes of trans-cultural identity and belonging through scenes of everyday life captured through her own photography and reimagined through large scale oil paintings. Kaarina's longing for home and need to find an outlet to process current events led her to start painting as a form of escapism and time travel during the pandemic. Despite the focus on Asian imagery, there lies a universal feeling of nostalgia and longing. Using both realist and expressionist painting styles, Kaarina's paintings fall between reality and fantasy, a memory and a dream, allowing the scene and story to be reinterpreted by the imagination of the viewer. Vivid colors and texture help to enhance the sights, sounds and smells of everyday life. The paintings serve as a timeless reminder of what once was, when we walked among crowds and bumped shoulders with strangers.