The Habits of Highly Successful CFOs and the Changing Landscape of Finance...
Description
The Habits of Highly Effective CFO's and
The Changing Landscape of Finance
Hosted by Host Analytics and The Toronto CFO Leadership Council


Thursday, February 28, 2019
6:00 p.m. - 8:30 p.m.
Joey Eaton Centre
1 Dundas W, Toronto, ON, M5G1Z3

Join us for an evening of cocktails and insights from Jack McCullough, Founder, CFO Leadership Council and our sponsor John Head, Vice President Sales, Host Analytics.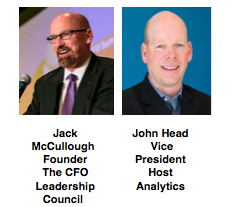 Program Description

While CFOs across all organizations demonstrate strong financial acumen and functional expertise, the most successful CFOs acknowledge the need to leverage competencies beyond financial oversight that align with the tenets of their organization's strategy, culture, and stakeholders.
Join us for "The Habits of Highly Effective CFOs," where CFOLC Founder Jack McCullough will share his perspectives on how a CFO can deliver value to stakeholders. And "The Changing Landscape of Finance" where John Head, Vice-President of Host Analytics will discuss how technology is changing the role of the CFO.


Learning Objectives
How the CFO role has evolved from "best accountant" to "strategic thinker" and what this means for CFOs and their teams;

The ten commonalities shared by elite chief financial officers

A plan for becoming a highly effective CFO

How a CFO can leverage a nimble strategic and operational mindset designed to deliver value in multiple organizational settings

How to effectively partner across functions and up and down an organizational chart in any environment

How strong CFO leadership can drive tangible value for business growth

How to increase the influence of Finance across the business


Who Should Attend
CFO's and other senior finance executives who want to improve their leadership and communications skills to drive growth and new opportunities for their companies and careers.
About our Speakers
Jack McCullough
Founder,
The CFO Leadership Council
With the vision of providing world class professional development programs and networking events for chief financial officers, Jack founded The CFO Leadership Council in 2006. Under his leadership, the organization achieved national recognition. Formerly, Jack was the Director of KPMG's Global Innovation Center, where he worked with early-stage investors, entrepreneurs, CFOs, and other members of the venture community. Prior to KPMG, he served as a CFO for 26 startups, raising more than $200 million in capital. In addition, Jack is a founder of the MIT Sloan CFO Summit, which has been recognized as the world's most influential conference for financial leaders.
As a former chief financial officer, entrepreneur, and recognized expert on financial matters, Jack can empathize with the challenges that corporate leaders face in growing today's businesses. In addition to developing a venture capital course for Harvard Business School and MIT Sloan MBA candidates, he has been interviewed by Bloomberg, CNN, and Fox Business Network and quoted by the Wall Street Journal, CFO Magazine, Treasury and Risk Management, the Boston Business Journal, and Business Finance Magazine.
Jack holds an undergraduate degree from Suffolk University and an MBA from MIT's Sloan School of Management.
John Head
VIce President, Sales
Host Analytics
Twenty-five-year veteran in the Enterprise Performance Management, Data & Analytics industries. John has served hundreds of organizations with their strategies, processes, implementations and adoption of new solutions and capabilities to drive performance across an enterprise. John has held leadership roles at Arthur Andersen, Hyperion, Hitachi Consulting and Slalom Consulting before coming to Host Analytics to lead Partner Alliances and Enterprise Sales for Host.
Cost: Free for members and non-member CFOs and Senior Finance Executives.
Service providers or any executives who are not senior financial executives (CFOs, Vice Presidents of Finance, Controllers, Directors of Finance, etc.) will not be admitted attendance to this event. The CFO Leadership Council reserves the right to decline any registration.
Register Now for our February 28th Cocktail Event!

More Information
Click here to learn more about CFO Leadership Council. Have a look at the programs we have in the coming months.

Become a Member


Click here to become a member.
Your annual membership begins the day you join and includes free attendance to Toronto's in-person events, free attendance to other
CFO Leadership Council chapters
in the United States, and access to our members-only groups.
Cancellation Policy
If you would like to cancel your ticket or request a refund, please contact Kim Naish (Kim@cfolc.com) or Stuart Pasternak (stuart@cfolc.com). Refunds are available up to 24 hours prior to the program.