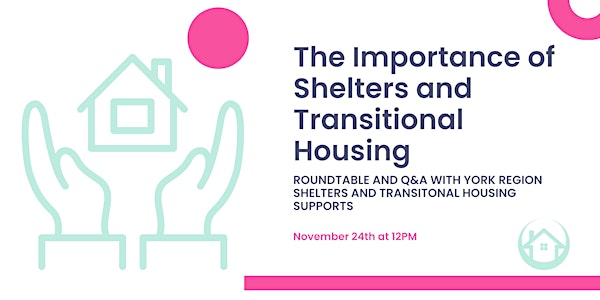 The Importance of Shelters and Transitional Housing Roundtable and Q&A
Join us for a roundtable discussion and Q&A with local shelters on the importance of accessible shelters and transitional housing.
About this event
47% of shelters across Canada reported that the pandemic greatly affected their capacity to accommodate individuals. Many operated at a full capacity and continue to see an increase in requests for services (https://www150.statcan.gc.ca/n1/daily-quotidien/220412/dq220412b-eng.htm).
Shelters and transitional housing are crucial support services for individuals affected by violence, abuse, exploitation, homelessness and other forms of interpersonal and systemic violence. Join us at this roundtable and Q&A with local shelters and transitional housing supports to gain a deeper understanding of why shelters need to be accessible, available, funded as well as learning about the reality of trends shelters are seeing. There will also be a Q&A with the panelists for attendees to have their questions answered.
Our panelists are from Sandgate Women's Shelter, Belinda's Place, Yellowbrick House and Bluedoor Family Shelters.