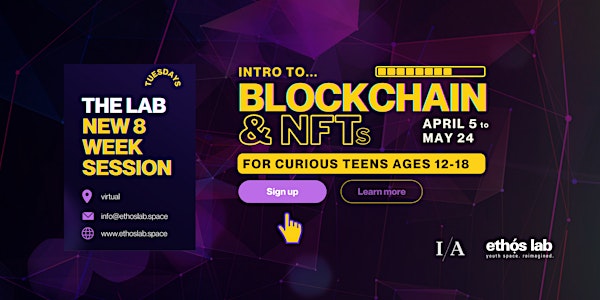 The Lab: Intro to Blockchain and NFTs workshop for Teens
If you're a curious creative this workshop is for you! In this 8 week session, learn the ins and outs of Blockchain technology and NFTs.
Refund Policy
Contact the organizer to request a refund.
About this event
What's Blockchain and NFT anyways?!
If you're an aspiring artist, curious creative, and or love tech this workshop is for you!
Delivered in partnership with InterAccess this 8 week workshop will teach you the ins and outs of Blockchain Technology and NFTs (Non-Fungible Tokens). You will hear from professionals and learn from those in the field the positives and negatives about this new technology. Learn the fundamentals of the latest emerging tech and the impact they could have in solving some of the world's biggest problems.
Whether you're hearing about these words for the first time or are already familiar with Blockchain and NFTs, we're diving in to uncover they hype, understand the tech, and imagine what's possible for our digital future including.
Schedule:
Week 1- 4: Debate and Ethics
Week 5-8: Core Technical Skills & Learning
Participants will learn:
* How to debate critical issues as it relates to Blockchain and the creation of NFTs
* How to practically utilize Blockchain technology and how to mint an NFT
* The fundamentals of Blockchain technology & Non-Fungible Tokens
* Understand and discover real-world applications of these emerging technologies
* Their place in emerging technology space
** No experience needed.
Materials Required:
* Laptop Computer
Important Note: Subsidies are available for registrants*
About InterAccess
InterAccess is a gallery, educational facility, production studio, festival, and registered charity dedicated to new media and emerging practices in art and technology. Their mission is to expand the cultural significance of art and technology.