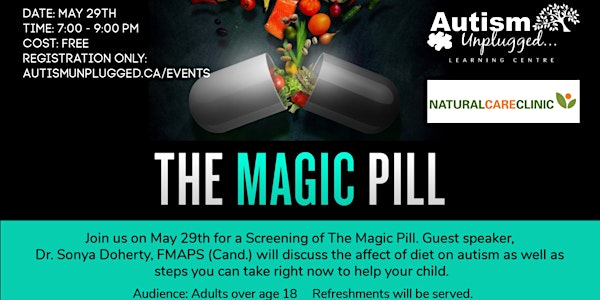 The Magic Pill Screening with Dr. Sonya Doherty, ND, FMAPS (Cand.)
When and where
Location
Autism Unplugged Learning Centre 45 Atherton Crescent NOTE: Rear of Building Keswick, ON L4P3M6 Canada
Description
Join us on May 29th for a Screening of The Magic Pill. Guest speaker, Dr. Sonya Doherty, FMAPS (Cand.) will discuss the affect of diet on autism as well as steps you can take right now to help your child.
Cost: Free
Audience: Adults over age 18
Refreshments will be served.
-------------------------------------------------------------------
Have you ever wondering if changing your child's diet could help improve autism symptoms? Mounting research is identifying that many aspect of autism are, in fact, medical issues. Medical issues like inflammation! The good news is that medical issues are treatable and highly reversible. Inflammation gets worse with certain foods and diets. Don't miss this amazing opportunity to watch the documentary The Magic Pill which follows the life of a number of individuals, including a little girl diagnosed with autism and seizures. Learn how dietary intervention can change your child's life and speak with biomedical expert, Dr. Sonya Doherty, who has been helping assess and treat medical issues in autism for 16 years.