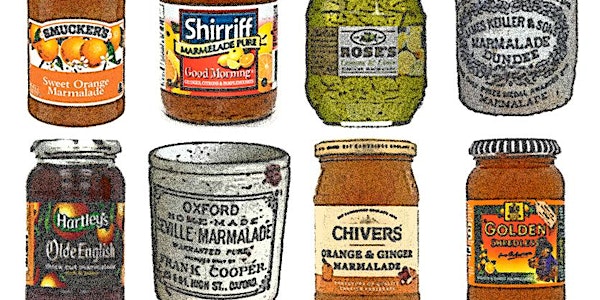 The Marmalade Mavens
The Culinary Historians of Canada present an illustrated talk by Sarah B. Hood on the rise and fall of the world's greatest marmalade makers
Refund Policy
Contact the organizer to request a refund.
About this event
From the legendary Janet Keiller, popularly credited with "inventing" marmalade in Dundee, Scotland in the 1700s, to Cooper's, Chivers, Smucker's and Shirriff's, the world's great marmalade manufacturers have fascinating stories. Touching on marmalade history from ancient times to the present, author Sarah B. Hood weaves a compelling tale that ties in Roman cookery, medieval Persian poetry, changing attitudes towards racism, scurvy in the British Navy, Victorian labour conditions and globalization, and perhaps explains why marmalade is such an enduringly beloved commodity.
After the presentation, Sarah will stay for a Q&A session on marmalade history and answer practical questions about making prize-winning marmalade.
This presentation is partly based on research for her upcoming book, Jam, Jelly and Marmalade: A Global History, due to be released by Reaktion Books (UK) in June 2021. All attendees will receive a code towards a 20% discount on a preordered copy of this hardcover book, which reduces the cost from US$19.95 to US$15.96.
Sarah B. Hood is a journalist, book author and award-winning jam-maker who lectures on writing and the history of fashion in the Centre for Arts, Design and Information Technology at George Brown College in Toronto. Her preserving cookbook We Sure Can! How Jams and Pickles are Reviving the Lure and Lore of Local Food, was a finalist in the Taste Canada food writing awards.