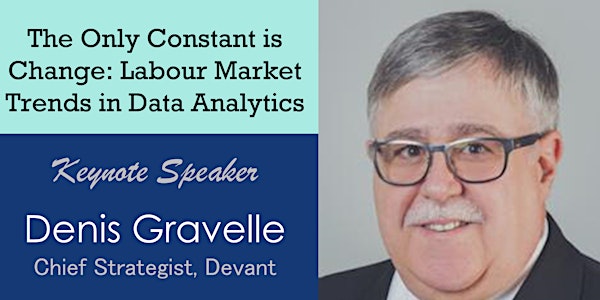 The Only Constant is Change: Labour Market Trends in Data Analytics
The Only Constant is Change : Labour Market Trends in Data Analytics
About this event
Topic: The Only Constant is Change : Labour Market Trends in Data Analytics
Speaker's Bio
Denis Gravelle is the Chief Strategist at Devant, a subsidiary of Academica Group, leading career and skills development projects in collaboration with industry and academia. Denis has led workforce development projects focusing on newcomers and international students. An experienced educator and trendsetter, his focus lies primarily on workforce development and skills training in the age of disruption. Denis has held previous leadership positions in adult learning and workforce development at Seneca, Humber and Fanshawe Colleges, and earned his BA from Western and MEd from OISE University of Toronto.
We are pleased to announce his support towards our "Speakers' Corner" virtual event scheduled for Wednesday, November 17, 2021 at 6:00pm EST.
Register with us to attend. It's free!