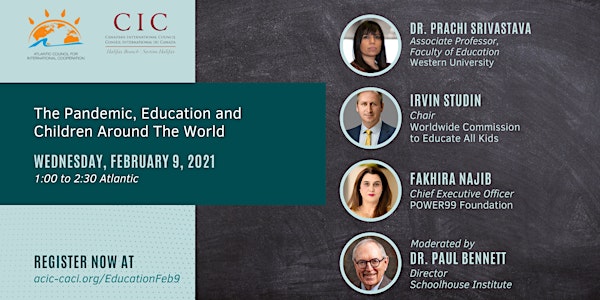 The Pandemic, Education and Children Around The World
Join panelists as we discuss the state of education around the world, and what can be done to shift from crisis to recovery, and beyond.
About this event
The global disruption to education caused by the COVD-19 pandemic is unprecedented with severe consequences for children around the world. The crisis brought education systems across the world to a halt, with school closures affecting more than 1.6 billion learners. While nearly every country in the world offered remote learning opportunities for students, the quality and reach of such initiatives varied greatly and were at best partial substitutes for in-person learning. Now, 22 months later, schools remain closed for millions of children and youth, and millions more are at risk of never returning to education at all. Closing schools caused significant learning losses, and further exacerbated biopsychosocial impacts on children and youth, particularly those who are already marginalized and underserved.
Our panelists will discuss the state of education around the world, and consider where we go from here. They'll explore what can be done to shift from crisis to recovery, and beyond recovery. They'll discuss what resilient and adaptable education systems look like, and how to build a global commitment to ensuring learning and well-being for all children is prioritized.
About the Panelists
Dr. Prachi Srivastava is Associate Professor, Western University, specializing in education and global development, and Visiting Professor, McGill University. She is also Member, World Bank Expert Advisory Council on Citizen Engagement. Previously, she served with the United Nations Mission in Kosovo and the International Rescue Committee. Since the start of the pandemic, she has been conducting research and policy analysis on the education emergency in Ontario, domestically, and globally. She has provided expert analysis for the Ontario COVID-19 Science Advisory Table. Dr Srivastava has also led high-level policy briefs on education recovery from COVID-19 for the G20 Summit processes, and provided expertise for a range of international organisations, including UNICEF and UNESCO. She holds a doctorate from the University of Oxford. She conducted research on COVID-19 and Schools for the Ontario Science Table (May 2021) and was involved in producing the December 2021 UNESCO, UNICEF, World Bank report, The State of the Global Education Crisis: A Path to Recovery.
Irvin Studin is a global policy strategist, Founder, Editor-in-Chief and Publisher of Global Brief Magazine, President of the Toronto-based Institute for 21st Century Questions, and Chair of the Worldwide Commission to Educate All Kids (Post-Pandemic). A former professional soccer player, Irvin went on to a stellar academic career, earning a Master's Degree as a Rhodes Scholar (1999) at Oxford University and completing his PhD in Constitutional Law in 2011 at Osgoode Hall. His latest book is Canada Must Think for Itself: 10 Theses for Our Country's Survival and Success in the 21st Century (2021)
Fakhira Najib is CEO of Power 99 Foundation based in Islamabad, Pakistan. An educationist with 20 years of experience in education development and community mobilization, she is the internationally recognized leader who pioneered the "Broad Class – Listen to Learn" Interactive Radio Instruction program in Pakistan. She organized and developed communication strategy for 2005 earthquake affected and displaced kids for FM 99. During her career at Children Resource's International, she developed teacher training programs, conducted curriculum reviews, and has represented Pakistan at several international conferences. She provides a much-need perspective from the Global South.
The Moderator of our Panel will be Dr. Paul W. Bennett, Director of Schoolhouse Institute, Halifax, Adjunct Professor of Education, Saint Mary's University, and former President of the Canadian International Council, Halifax Branch.