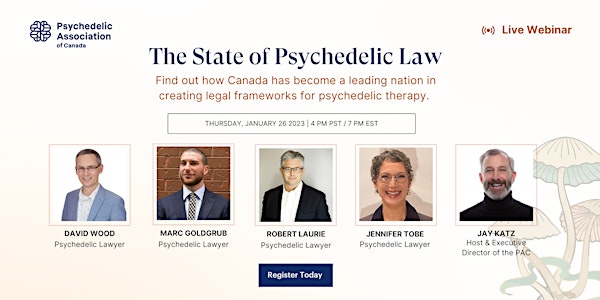 The State of Psychedelic Law
Find out what Canada has done to become one of the leading nations in the world for opening itself to accessible psychedelics.
Refund Policy
Contact the organizer to request a refund.
Eventbrite's fee is nonrefundable.
About this event
2022 was a monumental year for positive action on Psychedelics in Canada. Find out what Canada has done to become one of the leading nations in the world  for (still too slowly for many) opening itself to accessible psychedelics. Listen to top Psychedelics lawyers from across Canada discuss Marc Goldrub's newly released report: 2023, The State of  Psychedelic Law.
Host: Jay Katz - Board Member
Jay is a non-profit executive with 20+ years of experience working as a leader, volunteer board member and consultant in the not for profit sector. Jay has been the Executive Director of a symphony orchestra, a community centre, a seniors' residence and the COO of a community foundation. He has worked as an executive coach to executives in the finance, social housing, performing arts, law, visual arts, architecture and design, health services, insurance, and social service organizations, with a specialization in first-time CEOs and C-suite executives.
The Boards on which Jay has volunteered include the Mark Bonham Centre for Sexual Diversity Studies at the University of Toronto, Arts Consultants of Canada, the LGBT Giving Network and the Art Gallery of Windsor, where he also enjoyed sitting on the Acquisitions Committee.
Guest 1: David Wood - Lawyer
David is a lawyer and patent agent, practicing both as General Counsel and Chief Legal Officer at Psygen Industries Ltd. and through his solo legal practice, R-Group Legal.  Psygen is a contract development and manufacturing organization focused on GMP manufacture of indolealkylamines, phenalkylamines and ergolines.  Psygen is a licensed dealer in Canada authorized to manufacture LSD, MDMA, psilocybin, psilocin, DMT, 2-CB and mescaline.  R-Group legal is David's intellectual property, regulatory and commercial legal practice.  In addition to other clients in psychedelics and cannabis, R-Group Legal provides pro bono support to TheraPsil, a non-profit that has been successful in supporting dozens of Canadians in applications for exemptions to possess and consume psilocybin for therapeutic purposes, or to train in psilocybin assisted psychotherapy.
At both Psygen and R-Group Legal, David provides practical advice informed by his PhD in structural biochemistry.  David's education in chemistry and biochemistry provides a strong technical background for advising clients working with psychedelics, and clients working in the cannabis industry, in relation to both intellectual property and regulatory law.
Psygen's website is at [https://psygen.ca](https://psygen.ca/) and R-Group Legal's website is at [https://rgrouplegal.com](https://rgrouplegal.com/) and [https://rgroup.legal](https://rgroup.legal/).  David can be contacted through either of those websites or connected with on LinkedIn.
Guest 2: Marc Goldgrub - Lawyer
Marc Z. Goldgrub is the founding lawyer at Toronto-based law firm [Green Economy Law Professional Corporation](https://www.greeneconomylaw.com/), and the author of [PsychedelicLaw.ca](http://psychedeliclaw.ca/).
He holds a JD from the Benjamin N. Cardozo School of Law in New York City, a Global Professional Master of Laws degree from the University of Toronto Faculty of Law, and is licensed to practice law in Ontario and New York State. He is a member of the Psychedelic Bar Association and TheraPsil. Green Economy Law is a Psychedelic Association of Canada business alliance member.
Marc occasionally talks about psychedelic law on podcasts and writes about the subject on [LinkedIn](https://www.linkedin.com/in/marc-goldgrub-green-economy-law/). His perspectives on Canadian psychedelic law have appeared in Bloomberg, Psychedelic Alpha, and Psychedelic Spotlight.
Guest 3: Robert Laurie
AD LUCEM LAW CORPORATION was founded in 2013 by Robert W.E. Laurie, an international lawyer qualified in England and called to the British Columbia Bar. Robert's legal practice focuses on commercial business, government, regulatory issues, plus charter and constitutional legalities surrounding cannabis and psychedelic plant medicines. Robert has many years of policy development and legal practice in corporate, commercial, and administrative law, plus licensing, regulatory, and constitutional charter experience concerning medical access to cannabis and psilocybin. As a lawyer in Canada, Robert works to reform drug laws. As a consultant, he devises regulatory, government policy, and business solutions for companies operating globally in the regulated food, cannabis, and psychedelic industries. Robert serves as a board advisor to the Psychedelic Association of Canada, the Last Prisoner Project, and formerly with MAPS (Canada). In addition, Robert is an advisor to the Heroic Hearts Project, a founder of the McKenna Academy of Natural Philosophy, and a director of the Ecuador Amazon Restoration Project.
Robert has been working and advocating tirelessly as a lawyer to improve medical patient access to cannabis, psychedelics, and sacred plant medicines and facilitate drug laws to better society. Robert advised Dr. Bruce Tobin and the TheraPsil Alliance litigation team (first Section 56 CDSA medical exemption for psilocybin in Canada). He was one of the Decriminalize Nature Canada Petition drafters, part of a national campaign to decriminalize restricted plant medicines and fungi in Canada. His goal is to help provide more options for doctors and treatments for anxiety, depression, addiction, and PTSD. Robert is an acclaimed international speaker, presenting at conferences and events on the laws surrounding cannabis, psychedelic, and entheogenic medicines in North America, South America, Europe, Asia, and Australia.
Guest : Jennifer Tobe
Practices in the field of federal jurisdiction administrative law with a particular focus on Canadian cannabis and drug law and the future of national drug policy. Jennifer's focus is on Health Canada/Office of Controlled Substances regulatory compliance, licensing/permits, and specialized applications including s.56 exemptions. Ms. Tobe practices with Kurland, Tobe - A National Law Office - An association of Independent Law Corporations.