Event Information
Location
Metro Toronto Convention Centre (MTCC)
255 Front Street West
North Building - Lower Level
Toronto, ON M5V 2W6
Canada
Description
Powered by TorontoJobs.ca, The Toronto Recruiters Conference & Tradeshow presents a thought-provoking experience for Recruitment and HR professionals to gain valuable information from leaders on key issues in the Employment Industry.
THIS EVENT IS EXCLUSIVELY DESIGNED FOR:



- Recruiters working in Staffing Firms
- Corporate/In-House Recruiters
- Staffing Firm Owners
- Business Development Managers
Recruitment is evolving rapidly with the emergence of new practices and technology. Our Conference will cover topics on: New Tech in the Industry, Employment Law Updates, Employment Contracts, Social Media Recruitment, Reference Checking and more!
---
THE DETAILS
- WHEN: Tuesday, November 26th, 2019
- WHERE: Metro Toronto Convention Centre: 255 Front Street West (North Building - Lower Level)

CONFERENCE SPEAKERS
Attend Conference Sessions with 10+ Speakers on Recruitment focused topics.
Speakers include:
Hendrik Nieuwland, Partner, Shields O'Donnell MacKillop LLP - "Legal Considerations in the Workplace"
Rashmi Vohra, District Vice President, Retail TD - "Diversity and Inclusion: A Recruitment Imperative"
Dr. David Weiss, President & CEO, Weiss International Ltd. - "Hiring Leaders with 3 Essential Intelligences"
Marty Britton, President & CEO, Britton Management Profiles - "Knowing Who you Hire through Social Media"
Rob Catalano, Chief Engagement Officer, WorkTango - "Want Future Talent? Take Care of the Talent You Got"
Catharine Fennell, CEO videoBIO Recruiter - "Video Assessments in Talent Acquisition: The Winning Formula for Digital Talent Screening"
Geoffrey Ashford-Smith, Human Capital Consultant, AtmanCo - "Hire, Lead and Grow Your Most Valuable Assets"
Maaz Rana, COO & Co-founder, Knockri - "Artificial Intelligence in Recruitment" (PANEL DISCUSSION)
Panelists include:
Alyssa Krane, Chief Talent Strategist, Powerhouse Talent Inc. - "The Rexall Journey: The Power of human/technology teamwork in amplifying your employer brand and transforming your talent attraction practice" (PANEL DISCUSSION)
Panelists include:
Tracy Paulo-Brown, Senior Manager, Talent Attraction, Rexall
Tunde Kolarinwa, Senior Director, Talent Management, Rexall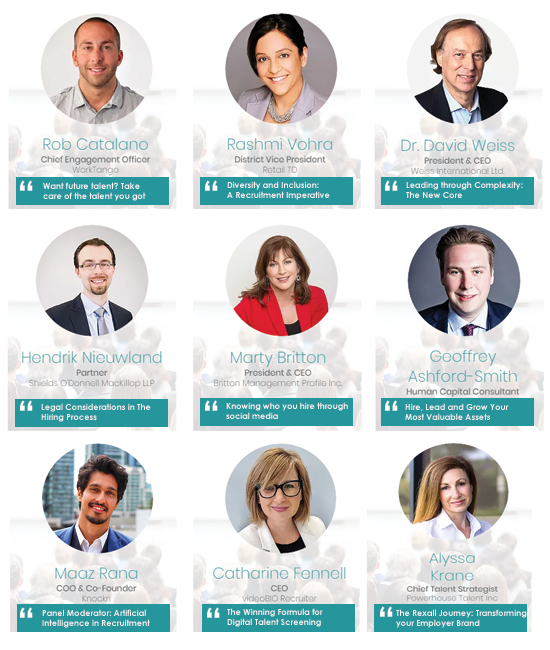 Visit www.TorontoRecruitersConference.ca for more information.
FOLLOW US FOR EXCITING SPEAKER, SCHEDULE & EVENT UPDATES:
LinkedIn | Twitter | Facebook | Instagram
---
NEW! Group of 10 General Admission Package
Looking for a fun, motivational and productive day out with your co-workers? Hear from industry leaders and grow your professional network while bonding with your team. Save over $220 with our new Group of 10 General Admission Package! EACH ticket includes:
- Full day access to the Tradeshow Floor
- Full day access to 10+ Industry Leading Speakers
- 1 Job Posting Credit on TorontoJobs.ca
- 1 lunch voucher.
$1,270 + HST
Group of 10 VIP Admission Package

General Admission Package inclusions PLUS:
- Preferred seating for speaking sessions
- Access to our Cocktail & Networking Reception
$2,120 + HST
---
InnovateWork Toronto Summit

Cocktail & Networking Reception
Admission included with purchase of the following tickets:
VIP Conference Admission
Group of 10 VIP Admission Package
#InnovateWork Summit and Cocktail Reception
The November 2019 #InnovateWorkTO event will bring together more HR, Talent, Tech and C-Level pros than ever before for an evening of learning and networking that's bigger and better than ever before!
Up to 500 professionals will come together at the North Building, Lower Level of the Metro Convention Centre for awesome speakers, a debate and networking opportunities for HR professionals and business leaders in Toronto
Agenda
4:00 pm - 5:15 pm - Registration and Networking (drinks & snacks) outside of hall with sponsor booths
5:15 pm - 5:25 pm - Opening, Sponsor(s) Address
5:30 pm - 6:00 pm - HR Passion Series (9-minute Passion Talks)
John Stockwell, Senior Vice President & Chief People Officer, Dentsu Aegis Network
Megan Woerlein, Global Head of HR, Digital Banking, Scotiabank
Michael De Bonis, VP of HR, Wasteco
6:00 pm - 6:30 pm - Networking (drinks & snacks)
6:30 pm - 6:45 pm - Employee Communications | Sarah Beech, President at Accompass.
6:45 pm - 7:25 pm - Keynote Speaker - Shifting from Teams to Community | Eric Termuende, Best-Selling Authour of Rethink Work
Attracting and retaining top talent isn't easy. Competition is fierce, unemployment hasn't been this low since the second world war, and perks and benefits from other companies can be tough to match. What if we realized we weren't competing against other companies, and that if we optimized our culture rather than compared to others, that we could win the talent war? At InnovateWork on November 26th, you'll learn key ways to optimize culture and build something bigger than teams; community.
Takeaways include:
* How to optimize culture
* What stories to tell to attract the next generation of talent
* How to improve the job description
* Increase belonging amongst teams
7:25pm - 8:05pm - "The Debate" As our worker ecosystem continues to evolve, so does the concept of and priorities within the area of Total Rewards. Hear from leaders and offer your inputs in this interactive debate.
8:05pm - 8:30pm - Close & Networking (drinks & snacks)
---
Fall 2019 Event Supporters

---
SHOWCASE YOUR BRAND
Increased Brand Exposure for your Organization.

Local, Targeted Audience of Greater Toronto Ares Recruiters & Staffing Firm Owners.

Centrally Located Downtown Toronto Location.
View our Media Kit for more information about exhibiting at The Toronto Recruiters Conference & Tradeshow.
Date and time
Location
Metro Toronto Convention Centre (MTCC)
255 Front Street West
North Building - Lower Level
Toronto, ON M5V 2W6
Canada