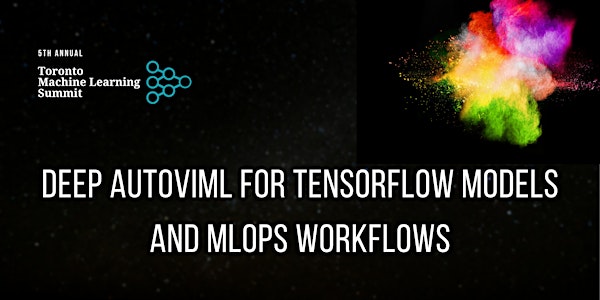 TMLS2021 Workshop: Deep AutoViML For Tensorflow Models and MLOps Workflows
Deep AutoViML For Tensorflow Models and MLOps Workflows
About this event
Speaker: Ram Seshadri, Machine Learning Program Manager Google
Abstract:
Deep AutoViML is a powerful new deep learning library with a very simple design goal: Make it as easy as possible for novices and experts alike to experiment with and build tensorflow.keras preprocessing pipelines and models in as few lines of code as possible. Deep AutoViML will enable data scientists, ML engineers and data engineers to fast prototype tensorflow models and data pipelines for MLOps workflows using the latest TF 2.4+ and keras preprocessing layers. You can now upload your saved model to any Cloud provider and make predictions out of the box since all the data preprocessing layers are attached to the model itself! In this webinar, we will discuss the problems that Deep AutoViML can solve, its architecture design and demo how to build powerful TF.Keras models on structured data, NLP and Image data domains.
What You'll Learn:
​As an ML instructor on Coursera and current ML consultant for Google, you will learn how to apply deep learning models to structured data, NLP and image problems with Ram Seshadri using his latest deep learning AutoML library called Deep AutoViML
Bio:
​As a popular ML instructor on Coursera and currently a Program Manager for Google, Ram Seshadri has worked in Machine Learning for more than 5 years. Previously, Ram served as a data scientist at Morgan Stanley and as an Instructor at General Assembly. He is the author of the popular Python AutoML libraries, AutoViz and AutoViML.