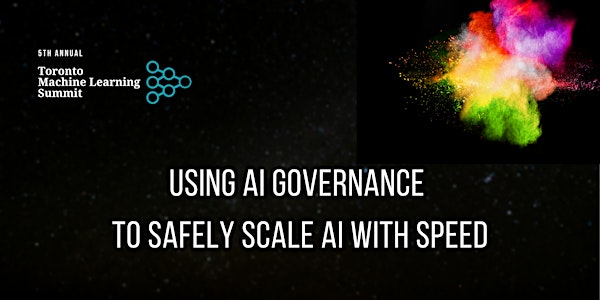 TMLS2021 Workshop: Using AI Governance to Safely Scale AI With Speed
Using AI Governance to Safely Scale AI With Speed
About this event
Speaker: Sophie Dionnet, General Manager, Business Solutions, Dataiku
Abstract:
Imagine a steady stream of insights to fuel business decisions, 360-degree customer views to boost relevance and revenue for faster, smarter recommendations to accelerate innovation. In reality, AI models that come fragmented, undocumented, and ungoverned can increase the risk of exposing your business to operational, reputational, and legal hazards. This is why reimagining how you govern AI projects and models is imperative to ensure transparency, trust, and control to scale your business at speed with AI.
In this session, Sophie Dionnet, General Manager, Business Solutions at Dataiku will show you how to scale at speed while taking control of AI.
What You'll Learn:
​You'll learn how to:
Tackle the growing complexity of AI models and projects
Use AI Governance to enable, not disable, your AI projects
Supporting AI Governance capability development to scale with AI
Bio:
Sophie is the General Manager of Dataiku's Business Solutions team. She is focused on the development of industry-specific offerings as well as offerings related to AI governance. Sophie joined Dataiku in 2019 after 14 years in the financial industry, where she was Chief Operating Officer of a multi-asset management unit at a leading asset management firm. Sophie draws on extensive experience in strategic business leadership, management of complex transformation projects (IT, regulatory, risk management, operational) and development of new businesses, particularly in responsible investment.