TOCICO-CCPM Certified Critical Chain Project Management

Sunday, 15 June 2014 at 8:30 AM

-

Wednesday, 18 June 2014 at 4:30 PM (Arabian Standard Time Qatar Time)
Event Details
 TOCICO -  TOC & CCPM Certified Critical Chain Project Manager
Workshop and Exam Session
 TOC & CCPM program is Developed by CGRMENA & CGRMINDS Canada Inc. and certification is issued by TOCICO USA.
TOCICO - TOC & CCPM Certified Critical Chain Project Manager Session:
Day 1 -  TOC Fundamentals                                                : 8:30AM- 4:30PM

Day 2 -  TOC Exam, Build and Manage Projects               : 8:30AM- 4:30PM
Day 3 -  Guaranteeing Execution of Projects TOC way    : 8:30AM- 4:30PM
Day 4 -  CCPM Exam & certification                                    : 8:30AM- 4:30PM 
Daily Group Discussions, workshops & practice. Time to discuss your company projects and one-on-one support
Interactive TOCICO Training, Certification and Workshop: 
Critical Chain Project Management
Learn why projects are Late and Over Budget?

Learn how to construct a Portfolio of Projects.

Learn how to control a project portfolio using early detection dashboards.

Understand how to resolve Resource Contention and how to prioritize intervention.

Keep a Project on track from the start, delivering projects at a 95% on-time and within budget record.

Learn the answer to the question "Do we have enough time available to finish the Project."

Comprehensive understanding of Critical Chain Project Management Principles

.Resource Loading and Budget Tracking.

Learn how to reconcile the project budget with the project schedule.

Understand the level of Risk associated within a project schedule: Both in Planning and Execution.

Learn how to use Risk Management indicator to mitigate the Risk in your projects.

Learn how to leverage your available Resources in order to maximize the Throughput of all projects in your portfolio.

Learn advanced network modeling techniques including Complex, Agile, SCRUM and Short Duration projects.

Best Practices: Planning, Scheduling and Executing a Multi 

Project Portfolio.

Project Portfolio Management:

Deliver Projects in Time, Scope & Budget

Define the various aspects of a project

Develop an efficient Project Plan

Build an appropriate project schedule.
At the end of this workshop, delegates will be able to:
Effectively manage & control Projects with bast practices CCPM through:
Schedule Management

Issues & Change Management

Communication Management

Risk Management

Human Resource Management

Quality & Metrics Management
Who should attend the TOCICO CCPM Training, Certification & Workshop?
All participants involved in Projects or Project Management - if you are sponsoring, planning, scheduling or executing a project or a portfolio of projects as a Program Manager, Project Manager, Key Resource or Team Leader - then this program is for you!

All Stakeholders not satisfied with the current level of Project Management Performance.
The Facilitators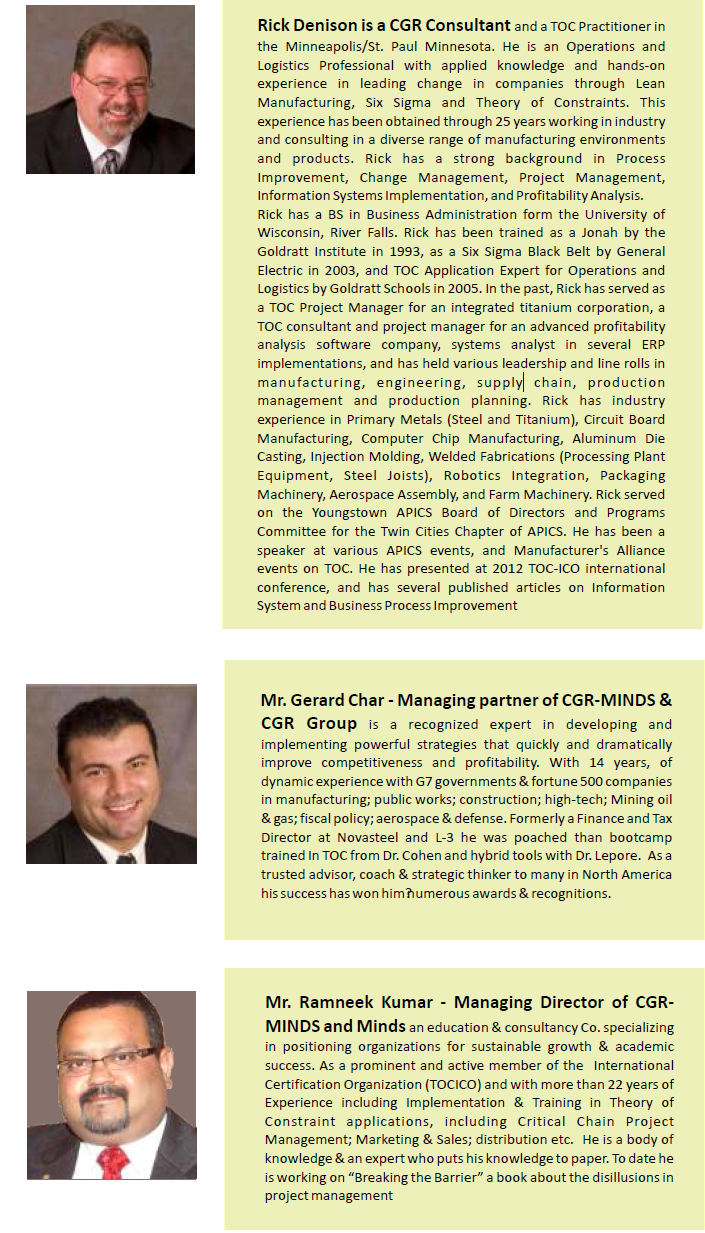 A comparison of Traditional Project Management versus What You Learn, Critical Chain Project Management :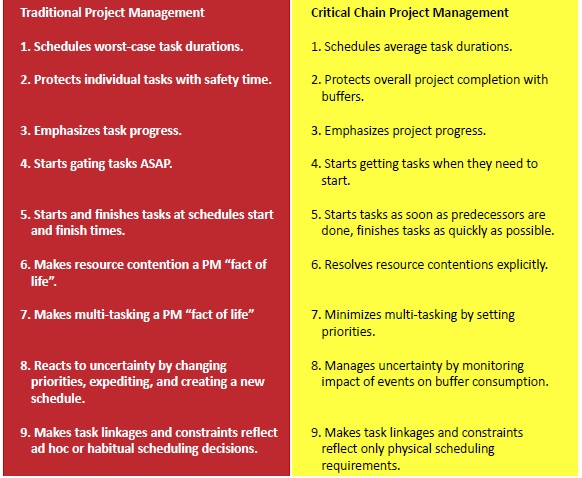 First introduced by Dr. Eliyahu M. Goldratt in 1997, Critical Chain Project Management (CCPM) is a relatively new, innovative method for planning, scheduling, and managing performance in a project environment based on Goldratt's Theory of Constraints (TOC).  CCPM was the first significant change about project management thinking since PERT and CPM were created in the 1950's.  CCPM differs from traditional project management methods which rely on completing tasks in a specific order with inflexible scheduling.  Using the Critical Chain methodology, resources are applied to the tasks requiring immediate attention with greater flexibility, resulting in keeping projects on schedule, withinbudget and delivered on time. CCPM is applied in single-project and multi-project environments (PPM – Project Portfolio Management) where resources are shared across multiple projects.
A Sample of who is using TOC CCPM Today: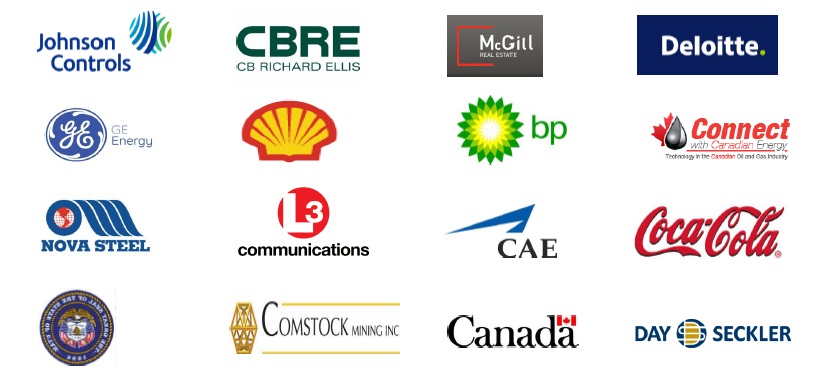 Fees per delegate USD 2400 per person (Including KIT, High tea, Lunch, Examination and Certification etc) for all days
Early Bird Discount 400$ off per person upto 15 May 2014
Group Discount 30% per person (for 5 + delegates) upto 20 May 2014
Group Discount 25% per person (for 5 + delegates) After the 20 May 2014
For further information about TOCICO Critical Chain Project Management Training and Certification contact us at
Coordinates: 4035 Levesque West Suite 2 Laval QC Canada +1 514 451 2265
Qatar Arabic Line   +974-70201447
Qatar English Line +974-55009460
When & Where

Crowne Plaza Doha - The Business Park
Airport Road Po Box 22080
Doha, Qatar
Qatar

Sunday, 15 June 2014 at 8:30 AM

-

Wednesday, 18 June 2014 at 4:30 PM (Arabian Standard Time Qatar Time)
Add to my calendar