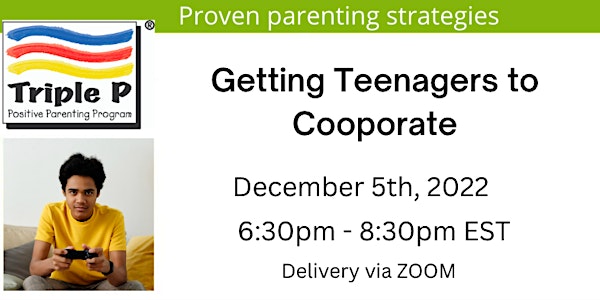 Triple P - Getting Teenagers to Cooperate
Is your teenager having difficulties cooperating? Join us to learn strategies on how you can help.
About this event
Many parents experience their teenagers becoming less cooperative during the transition for a child to adult. Parents may find this change upsetting, and it can lead to conflict between parents and teenagers. This session will give some positive parenting suggestions to help you teach your teenager how to be polite and cooperative.
Learn about:
-What are common why teenagers don't cooperate
-Setting clear expectations
-How to encourage behaviour you like.
WHO IS IT FOR?
• Parents or caregivers who have a teen aged 12 to 16 years old.
• Those interested in general information about supporting teens with positive behaviour strategies. Everyone is welcome to attend this FREE online event.
WHERE IS THIS SEMINAR BEING HELD?
We are presenting this discussion group online via ZOOM
WHAT RESOURCES DO PARENTS RECEIVE?
Each participant will receive an email with any resources we have mentioned throughout the presentation.