Typing Classes for Kids - Autumn (Tuesdays) September 9th to October 21st

Weekly Event - Every Tuesday: 5:30 PM to 7:00 PM (EDT)
Event Details

Do you want your children to learn effective typing skills? Join us for our seven-week touch typing course  for kids which will equip your child with the skills he/she needs to complete their work in a quarter of the time.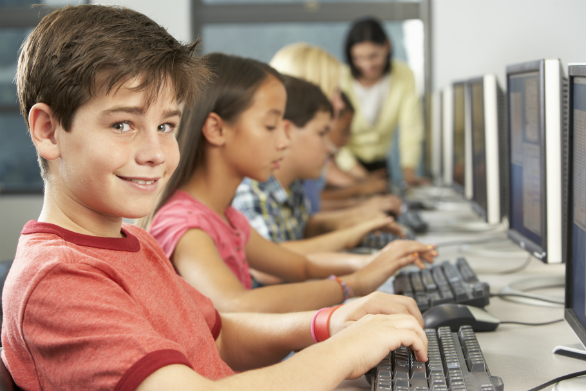 Your child will:
Learn to Touch Type all the letters of the Qwerty keyboard
Increase their typing speed and accuracy
Complete work up to 4 x faster
Increase grades at school
Learn essential exercises to reduce health- related computer issues. 
This course will include software, all the materials needed for practice at home, as well as a certificate. Each class will be one and a half hours.
At Qwertynomics, we will teach your your child to Touch Type efficiently and in a fun way. In just a short period of time, we can positively change the way he/she works. Learning to type using our Qwertynomics methodology not only increases their child's grades but also increases their self-esteem and confidence. 
Come and join Qwerty and his friends, Train your brain and enjoy a new gaming style of learning. 
Homework will include at least 30 minutes of practice at home per day. (Yes, they will want to do this, as we give them games for homework.)
During school lessons, students may feel overwhelmed with the presented information, and if they're unable to keep up due to poor handwriting, concentration issues or not understanding, they may simply give up. 
That's where some extra help is needed. We are here to help. 
September 9th, 16th, 23rd, 30th
Time: 5:00 pm to 7.00 pm

What do I need to do before the class begins?
Download the software in advance of starting our program.  Please ensure that you download the software before class. We will supply you with the Activation Code on the first day of class. If you encounter a software download problem with Chrome please use another browser. 
What will I need to bring to class?
Nothing. Please ensure that you have downloaded the software prior to class if you are bringing your own computer.   
What is touch typing?
This is typing by touch without ever having look at your fingers while typing. 
We 
will 
train your brain to type by touch 
and 
to access the cerebellum (the part of the brain that does things without thinking-muscle memory). To do this
,
 we have to stop your eyes from looking 
down 
at your fingers. This is why we use specially designed keyboard covers. 
What is a keyboard cover?
A keyboard cover is used when you are learning to type to cover your fingers so that you don't look at them
. 
A cover 
will be supplied on your first day. This is for you to take home and keep. 
It allows 
you to train your brain to access the muscle memory so that the thoughts just magically move your fingers. 
Is there a difference between Touch Typing and looking at your hands when typing?
Yes, 
there is 
a huge difference. There are lots of advantages 
to 
T
ouch 
T
yping
,
 including increasing your speed 
and
 accuracy, being able to type without concious thought, taking notes directly and increased multitasking. Adults who have learnt to type as a child without looking at their hands say 
that it is one of the most important skills they have ever learned. 
Is there any homework in between classes?
Yes. The more you practice, the more 
your typing skills will improve
. We do ask you to practice at least 30 minutes every day. This is not always possible, so practice a little more on the days you can. This will make a huge difference. Using our software, you can practice lessons, games, spelling and boosters. 
There is lots of typing software on the market. Why should my child attend a typing class instead?
We are not just 
about the 
software. We have built our Qwertynomics methodology around children's learning styles and needs. We use a multisensory approach in order to allow all students to work in 
their 
own style and at 
their 
own pace. We pride ourselves on our results 
and our students' 
happiness and success. Our program is also suitable for children 
who have
 a wide range of special needs. 
What is the best age to learn to type?
By the age of 7, children's brains are mature enough to learn to type effectively. 
Their f
ingers also have the motor skills and size 
required 
to type on a Qwerty keyboard successfully before poor 
typing 
habits are formed. It is 
never 
too late to learn. We have successfull
y
 taught over 1,400 students from age 6 years to 85 years. 
If you have any more questions, please do not hesitate to contact us at info@qwertynomics.ca
Have questions about Typing Classes for Kids - Autumn (Tuesdays) September 9th to October 21st?
Contact Qwertynomics
Where

Qwertynomics
993 Vernon Place
Newmarket, ON L3Y 7E2
Canada

Weekly Event - Every Tuesday: 5:30 PM to 7:00 PM (EDT)
Add to my calendar
Organizer
Qwertynomics
With over 17 years of teaching experience and a speciality in computers and special needs education, Zoe has developed and innovative method of teaching touch typing/keyboarding skills which produces outstanding and measurable results. 
Qwertynomics is more than just a typing program. It teaches the science behind typing, as it blends the key elements of ergonomics, wellness, efficiency, speed and accuracy. With all this you have a skill for life. 
Typing Classes for Kids - Autumn (Tuesdays) September 9th to October 21st