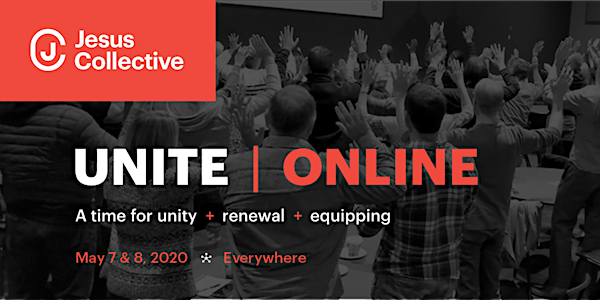 UNITE | ONLINE
UNITE | ONLINE
About this event
Imagine us coming together right now from different cities, countries, and contexts to unite together and (re)centre ourselves on Jesus.
UNITE | ONLINE is a relational online gathering on May 7 & 8, tailored to the needs of Jesus-centred Pastors and Ministry leaders for the season we're in.  
A moment to unite around Jesus with peers from different cities, countries, and contexts. A time for soul care and renewal as we slow down to encounter and listen to Jesus together.  A space to learn from one another as we work to mobilize our churches in this moment.  
The focus for UNITE | ONLINE:
Slowing down to encounter Jesus together and (re)centre on him in turblent times
A much needed moment of spiritual renewal, formation, soul care, and listening to what God is saying to us
Discerning together what it means to be 'Jesus-centred' amidst a crisis
Equipping conversations and encouragement for the real-time opportunities and challenges defining this season 
Learn from leaders around the world about the impact of the pandemic and the global church's response
Prayer for one another, our churches, and our communities
Uniting together to keep our eyes fixed on Jesus 
Friends sharing insights at UNITE | ONLINE:
Danielle Strickland, Bruxy Cavey, Greg Boyd, Tara Beth Leach, Ken Shigematsu, Jeff Lockyer, 24-7 Prayer, Global Church leaders, and more...
Day 1 -- Centring on Jesus & Spiritual Renewal
Thursday, May 7 | 12:30 - 3:30 PM EDT
Hearing from Global Church leaders
Reflecting on what difference it makes being 'Jesus-centred' in this moment
Time to encounter Jesus and refuel spiritually through guided communal spiritual practices
Safe space to listen and process what God is saying to you alongside peer leaders
Uniting together through communal prayer
Day 2 -- Equipping for Mobilization
Friday, May 8 | 12:30 - 3:30 PM EDT
Hearing from Global Church leaders
Learn how other like-minded churches and leaders are mobilizing amidst the COVID-19 pandemic
Choose from a number of interactive equipping conversations including: "What difference does the Jesus Way really make?", "Discipling our people and mobilizing for mission", "Church after COVID-19" and more...
Sharing a time of prayer and communion together
This is a free online event. We encourage you to invite your teams and colleagues, or share with other Pastors or ministry leaders who may find this meaningful and encouraging.