About this Event
Have you ever thought about your creative potential with technology? Interested in learning how today's women in tech tapped into their own creativity and personal voice?
Join Lucy and Kumiko from the Hackergal team and our special guests to learn about the exciting possibilities of working in and with technology. Virtually meet and hear inspiring and empowering talks by tech influencers and female role models, including our keynote speakers, Tiffany Janzen, Program Developer at IBM (@tiffintech) and Melissa Cash, Director of marketing at Snowman (@builtbysnowman) and a fireside interview with Guadalupe Koen-Alonso, UX Designer, Strategy, CIBC (@CIBC) and our very own Hackergal Student Ambassadors!
Come learn how your creativity can propel your journey with code!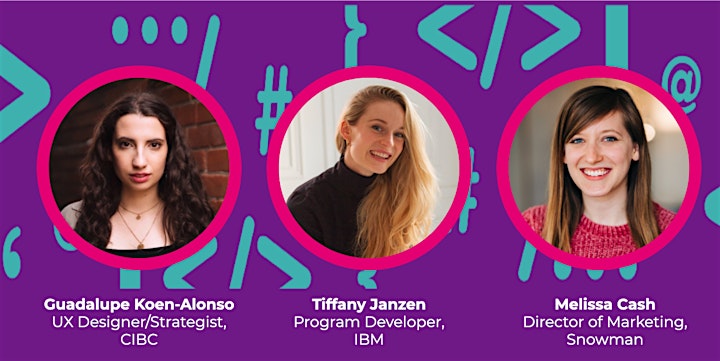 What you can expect to learn:
Advice and tips to build your creative confidence from young women in tech
How technology helps unleash creativity
The value of coding across different sectors
Exciting career paths in tech
Prerequisites:
None. Come as you are and join our community!
How to attend:
Spots are limited! Sign up today and a Zoom link will be sent to you after registration.
We hope to see you there!