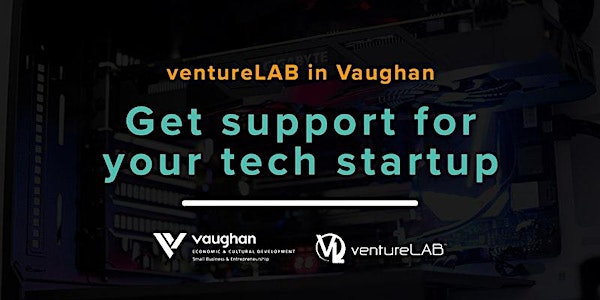 Vaughan Small Business Week - Innovation Strand : Business Model Canvas 2
Develop the Infrastructure and Financials blocks of the Business Model Canvas.
About this event
ventureLAB in collaboration with the City of Vaughan, will be hosting an interactive webinar on "Innovation Strand Workshop: Business Model Canvas 2". Join Heather Crosbie, a ventureLAB Advisor, who will guide you through this presentation.
In this workshop you will learn:
Apply the tools of The Lean Startup.
Start building the foundation for a business plan.
Develop the three Infrastructure and two Financials blocks of the Business Model Canvas: Key Partnerships, Key Activities, Key Resources, Revenue Streams and Costs
About the Facilitator
Heather helps high-potential technology entrepreneurs to build sustainable companies as a Senior Adviser at ventureLAB, the innovation hub for York Region. Heather teaches entrepreneurship and is on the Board of Directors of a growing social enterprise. Previously, her career was spent as an entrepreneur and business leader in startup, scaling and mature companies. Heather has an MBA from Western University's Ivy Business School. Spinning, cycling, cross-country skiing, reading and music are important parts of her life.
About ventureLAB
ventureLAB is a leading technology hub located in Markham in York Region, Canada's second largest tech cluster. Through its programs focused on capital, talent, technology, and customers, ventureLAB has supported over 2,000 tech companies and entrepreneurs, including 100 companies that have raised over $100 million and created 3,500 jobs. ventureLAB's innovation hub is a 50,000 square foot facility that is home to over 45 tech companies and partners that employ over 300 people. At ventureLAB, we grow globally competitive tech titans that build-to-scale in Canada.
About the City of Vaughan
The City of Vaughan provides one-stop services for Vaughan's aspiring entrepreneurs and existing business owners. With access to business information, resources, training and hands-on assistance to start or grow a business in Vaughan. Services include:
Business Consultation and Mentorship
Market Research, Intelligence and Business Information
Entrepreneurship Programs
Business Workshops, Seminars and Events
VAUGHAN SMALL BUSINESS WEEKThis workshop is being presented as part of Vaughan Small Business Week, happening October 18 - 22, 2021. For other events taking place as part of this event, please visit: vaughanbusiness.eventbrite.ca.